Health and Agriculture join forces on European Antibiotic Awareness Day 2016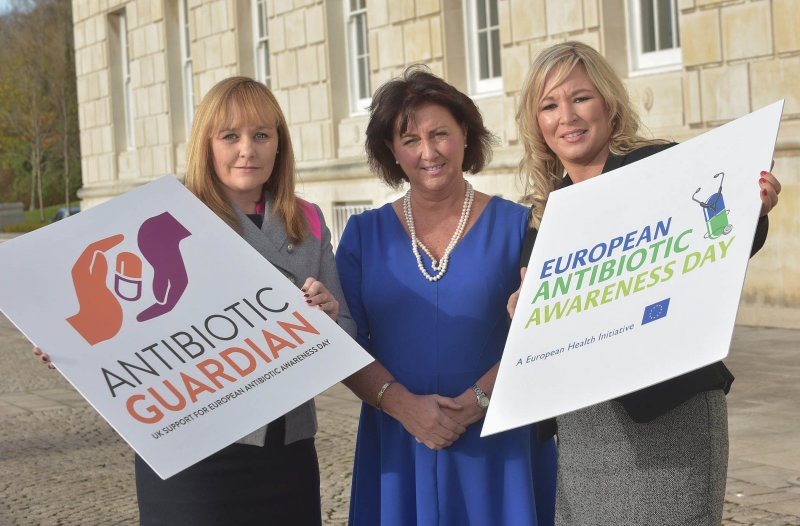 Health Minister Michelle O'Neill and Agriculture Minister Michelle McIlveen have highlighted the importance of responsible antibiotic use in both humans and animals.
The emergence and spread of infections caused by bacteria that are resistant to treatment by existing antibiotics is a major and growing threat to modern medical and veterinary practice and is regarded by the World Health Organisation (WHO) as one of the most serious global threats to health.  On European Antibiotic Awareness Day (EAAD), the Antibiotic Guardian Campaign continues to call on everyone here - healthcare professionals, veterinary practitioners and the public - to become an Antibiotic Guardian by making a simple pledge about how to make better use of antibiotics and help save these vital medicines from becoming obsolete.
Speaking on EAAD 2016, Health Minister Michelle O'Neill said: "We all have our part to play to address this global threat. Many people still wrongly believe that they should be prescribed antibiotics to treat viral infections. However, antibiotics do not work against viruses such as colds and flu and therefore they are of no benefit in treating these infections. Antibiotics are only effective against bacterial infections and overuse of antibiotics in the wrong situations can lead to an increase in antibiotic resistant infections.
"Make your pledge today and show your commitment to making better use of antibiotics to reduce the impact of resistance today and in the future."
Many infectious diseases risk becoming untreatable and uncontrollable. If resistance continues to increase at a faster rate than the development of new antibiotics, many modern medical interventions that depend on the availability of robust anti-infective agents, such as cancer chemotherapy, organ transplantation, care of extremely premature neonates and major surgery, become jeopardised. Routine medical and surgical practices such as hip replacements may become much riskier.
Agriculture Minister Michelle McIlveen said: "In order to tackle the threat posed by antibiotic resistance, we need to prevent unnecessary use in animal production and minimise the incidence of disease that would necessitate the use of antibiotics. Good farm management, biosecurity and animal husbandry systems are crucial in minimising the occurrence of disease and in turn in reducing the need for antibiotic use.
"I therefore strongly support the Antibiotic Guardian Campaign and call upon practitioners to consider taking the pledge and becoming Antibiotic Guardians."
Valerie Watts, Interim Chief Executive of the Public Health Agency and Chief Executive of the Health Social Care Board, said:
"Keeping antibiotics effective is everyone's responsibility. The responsible use of antibiotics can help stop resistant bacteria from developing and help keep antibiotics effective for future generations. This is essential in ensuring we can continue to provide complex operations and treatments which both save lives and enhance people's quality of life."
Notes to editors:
1.    European Antibiotic Awareness Day (EAAD) is a Europe wide public health initiative to raise awareness of antibiotic resistance and the importance of responsible use of antibiotics. It has been held annually on 18 November since 2008.
2.   In September this year the EAAD initiative received the European Health Award, a prize awarded each year by the European Health Forum Gastein. The European Health Award honours initiatives aiming to improve public health or healthcare in Europe.
3.   The World Health Organisation (WHO) World Antibiotic Awareness Week runs from 14th to 20th  November 2016 - aiming to increase awareness of global antibiotic resistance and to encourage best practices among the general public, health workers and policy makers to avoid the further emergence and spread of antibiotic resistance.  
4.   The Antibiotic Guardian pledge has been established in the UK since 2014. It calls on everyone in the UK to become antibiotic guardians by choosing one simple pledge about how they will make better use of these vital medicines. The pledge can be made at the antibiotic guardian website: antibioticguardian.com/
5.    In support of EAAD, the Public Health Agency (PHA) and Health and Social Care Board (HSCB) have developed a short video which can be viewed online at: www.youtube.com/watch?v=gjzZ_HO52To&feature=youtu explaining the importance of antibiotics and providing simple steps to follow to preserve the antibiotics we have and use them appropriately.
6.   The PHA and HSCB have developed resources for healthcare providers, including refreshed prescribing guidelines and also a range of information leaflets for members of the public. These include information on how to manage common infections without antibiotics. The resources can be found on the PHA website at: www.publichealthagency.org/antibiotic-awareness
7.    Guidance on the responsible use of antimicrobials in agriculture is available on The Responsible Use of Medicines in Agriculture Alliance  (RUMA) website at: www.ruma.org.uk/antimicrobials/guidelines/
8.    Media enquiries about this press release to DoH Press Office on 028 9052 0074, or out of office hours contact to Duty Press Officer via pager number 07623 974383 and your call will be returned. Follow us on Twitter @healthdpt‎