Surveillance of influenza in Northern Ireland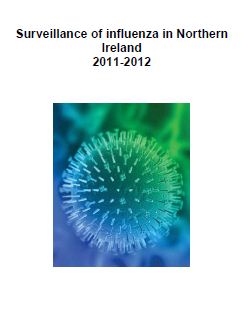 The influenza season started later than normal, clinical indices began to increase marginally in mid-February, much later than previous seasons, and activity remained very low throughout, with community syndromic indicators not reaching the baseline warning threshold during the season. The peak GP influenza-like illness consultation rates in 2011/12 were the lowest since surveillance began in Northern Ireland in 2000. No one age-group appeared predominantly affected, with low levels of activity in all age groups, however, GP consultation rates increased in both children and adults.
Influenza A (H3) was the predominant strain of the virus circulating, with small numbers of the influenza B strain circulating later in the season. Unlike the 2010/11 season when Influenza A (H1N1)2009 strain dominated in Northern Ireland, there were no detections of this subtype in 2011/12; virological activity generally corresponded to clinical activity.
There were however, patients with confirmed influenza admitted to Intensive care units, across Northern Ireland during the season. Numbers were low, the average age of these patients increased compared with the previous season and one fatality was reported in this group.
The proportion of over 65 year olds who received the 2011/12 seasonal influenza vaccine was 77.0%, and in those in a clinical risk group aged under 65 years was 81.7%, both of these vaccination uptake figures were a slight increase on the previous year. Influenza vaccine uptake in frontline healthcare workers also increased marginally this season to 20.8%, as did the proportion of pregnant women vaccinated during the season.
Details
Target group
Health protection professionals