Transmit: Health protection service bulletin. 2010: Issue 5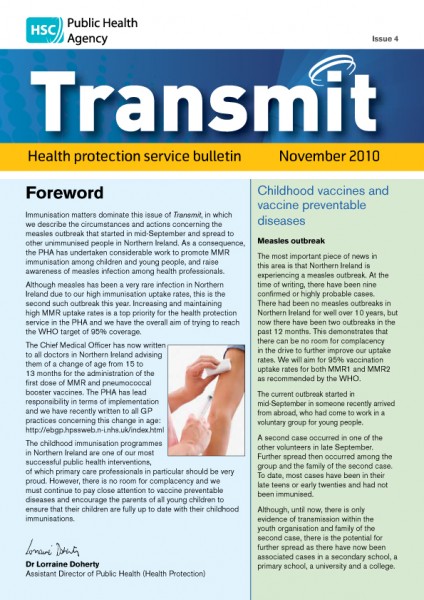 Issue 5 of Transmit reports extensively on immunisation matters, primarily the measles outbreak that started in mid-September and spread to other unimmunised members of the population. The report highlights the PHA's subsequent action, including letters to GPs and press releases on the importance of the MMR vaccine, and outlines the key factors in dealing with a potential measles case. Graphs and tables showing vaccine uptake rates for a range of childhood immunisations are also included.

In addition, issue 5 provides an update on gastrointestinal infections, with relevant data for the first quarter of 2010, and focuses on the risk factors for salmonella infection.

As always, Transmit briefly covers of other health protection issues, which this month include hand, foot and mouth disease (HFMD), flu vaccines and egg allergies, and an age change for MMR and pneumococcal vaccines.
 
Details
Format
A4, 12 pages, PDF bulletin
Target group
Health protection professionals