'Sharing the Learning' from substance misuse service users in Belfast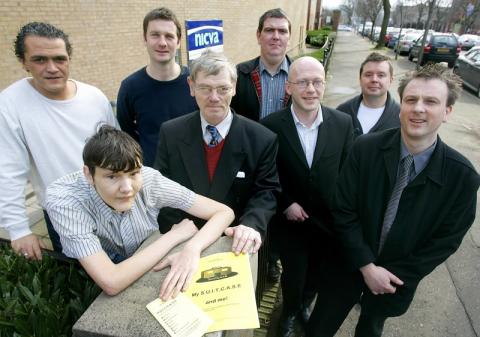 People who receive drug and alcohol services have been sharing their experiences to help improve services and meet the needs of those who use them.
At a recent workshop, service user groups from Belfast met other people who access substance misuse services in Newry and Mourne, Omagh and Derry to share their experiences and learning and help improve drug and alcohol service provision.
The Belfast service user groups – from Carlisle House, the Belfast Health and Social Care Trust Drug Outreach Team, and Extern's Multidisciplinary Homeless Support Team, along with those from Omagh, Newry and Mourne and Derry – are funded by the Public Health Agency (PHA).
Speaking after the event, Davis Turkington, PHA Drugs and Alcohol Coordinator in the Belfast area, said: "The PHA recognises the importance of service user involvement as a way to ensure that services are appropriate and meet the needs of those who use them.
"Coordinating this workshop was part of the PHA's ongoing commitment to this work, not only at service level, but also ensuring that service users become involved and have a voice in the New Strategic Direction on Alcohol and Drugs. We realise that service user involvement is at an early stage in Northern Ireland, but this workshop gave those involved an opportunity to learn from each other and increase the effectiveness of their programmes. This is only the beginning of this important work."
This workshop builds on and develops previous involvement work, for example, service users have participated as trainers on Council for the Homeless Northern Ireland substance misuse and homelessness training programmes. They have also taken part in the training of social workers, through Queen's University Belfast, and are involved in the management structures of the services that they use.
Chris Rintoul of Council for the Homeless Northern Ireland described its input to the event saying: "Since January 2007, I have co-facilitated training with service users to homelessness services staff in the eastern area of Northern Ireland. This model of training delivery has proved extremely popular and beneficial to homelessness staff. It also has many benefits for service users including the recognition of their experiential expertise and opportunity to influence service delivery."
The workshop, held at the Northern Ireland Council for Voluntary Action (NICVA), was also an opportunity to make recommendations to the PHA and the Department of Health, Social Services and Public Safety (DHSSPS) on how the service users want to be represented and involved in service planning, delivery and evaluation.
Further information
Contact PHA press office on 028 9031 1611.

Photo Caption: Pictured at 'Sharing the Learning' workshop, Belfast, to help improve drug and alcohol service provision, are (L-R) Sean Conlon, Extern; Sean Kane, Extern; Chris Rintoul, Council for the Homeless Northern Ireland (CHNI); David Legge, Extern; Iain Cameron, Extern; Davis Turkington, PHA Drugs and Alcohol Coordinator, Belfast; Joe Corry, Extern and Mal Byrne, Extern.