COVID-19 vaccination for children and young people - Guidance for parents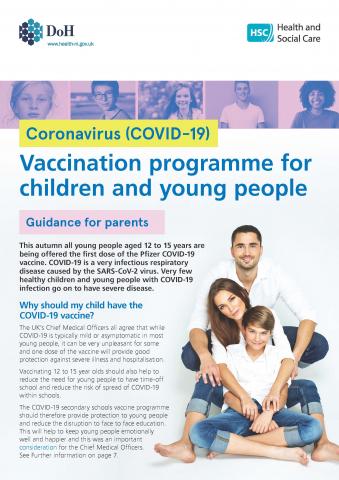 The schools element of this programme finished on 14 January 2022 but for those children who missed their vaccination in school or now need a second dose, see www.nidirect.gov.uk/covid-vaccine.
This factsheet for parents was issued to all children aged 12 to 15 who were invited to receive the COVID-19 vaccination in schools. It explains about the vaccine, safety and potential side effects and answers frequently asked questions.
This PDF has been amended since the document was printed to clarify the issue on consent (see page 5) and 12 week interval (see pages 3 and 4). Please note that since publication, children aged 12 to 15 are being advised to have a second dose of vaccine.
A large print accessible version of this factsheet is available below as a Word document.
Translations below are based on a previous version of this factsheet.
Details
Target group
Parents of 12 to 15s receiving the COVID-19 vaccine in schools