COVID-19 vaccination - a guide for adults and translations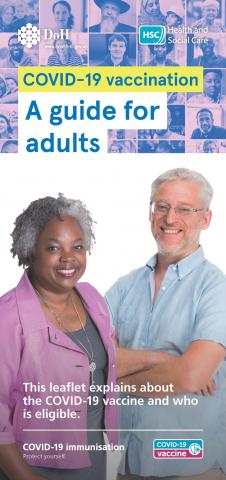 This leaflet describes the COVID-19 vaccination programme in Northern Ireland, who is eligible and what happens after vaccination. It is for adults in the priority groups for vaccination. Please read this leaflet before your vaccination.
This leaflet is also available in Large print format. An accessible Word document is available below.
COVID-19 vaccination – A guide for adults BSL and ISL videos produced by the BDA are available here:
Additional information
Plain text translations of this leaflet are available to download below. If you need this information in a language that is not available here, you can use the Browsealoud facility on this website. This tool can translate and/or read aloud over 90 other languages. The full list of languages available is here and instructions for how to use the Browsealoud option are available to download here.
Details
Format
1/3 A4 12 page booklet
Target group
Adults receiving the COVID-19 vaccine