COVID-19 vaccination - A guide for parents of children aged 5 to 11 years at high risk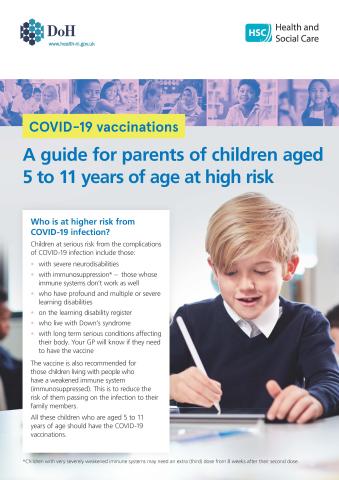 This information leaflet is for parents of 5 to 11 year olds who should receive the special child's COVID-19 vaccination, either because they are at high risk or because they live with someone who has a severely weakened immune system. It explains about the vaccine, potential side effects and what to do. Please read this before your child's vaccination.
A large print accessible version is available below as a Word document.
You may have received a letter inviting you to bring your child for the COVID vaccination. If you have not yet received a letter you can still book at https://covid-19.hscni.net/get-vaccinated
When you attend the special vaccination clinic you should bring some form of written evidence that your child is in one of the clinical risk groups. This might include a paediatrician hospital letter that mentions your child's illness, a GP letter or a prescription of long term medications that your child is taking. If you have no evidence at home and still feel your child is eligible, you should discuss with your GP and/or paediatrician who will be able to provide a standard letter.
Details
Target group
Parents of 5-11s at risk