COVID-19 vaccination - a guide to the programme and translations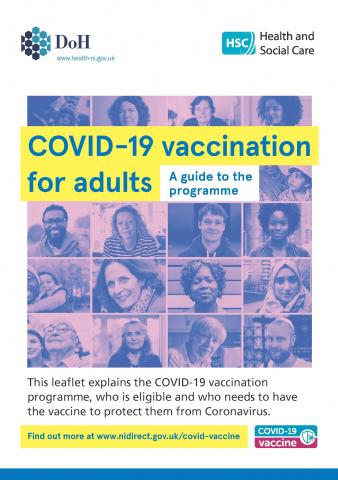 This leaflet describes the COVID-19 vaccination programme in Northern Ireland for all adults. Please read this leaflet before your vaccination.
A large print accessible version of this leaflet is available below as a Word document and an audio version is also available.
COVID-19 vaccination – A guide for adults BSL and ISL videos produced by the BDA are available here:
Additional information
Plain text translations of a previous version of this leaflet are available to download below. If you need this information in a language that is not available here, you can use the ReachDeck facility on this website. This tool can translate and/or read aloud over 90 other languages. The full list of languages available is here and instructions for how to use the ReachDeck option are available to download here.
Details
Format
1/3 A4 12 page booklet
Target group
Adults receiving the COVID-19 vaccine