COVID-19 vaccination - protection for health and social care workers and translations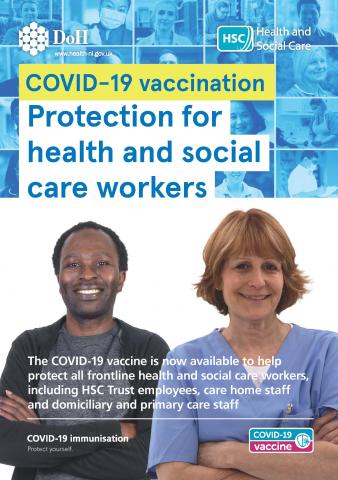 This leaflet describes the COVID-19 vaccination for health and social care workers, including HSC Trust employees, care home staff and domiciliary and primary care staff. The leaflet explains why it's important to get your vaccine and includes information on potential side effects and what to do next. It includes updated guidance on pregnancy. Please read this before your vaccination.
Please note that translations other formats below are based on a previous version of this leaflet and will be updated as soon as possible.
Additional information
Plain text translations of this leaflet are available to download below. If you need this information in a language that is not available here, you can use the Browsealoud facility on this website. This tool can translate and/or read aloud over 90 other languages. The full list of languages available is here and instructions for how to use the Browsealoud option are available to download here.
Details
Target group
Health and social care workers