Safer shopping during COVID-19 poster and translations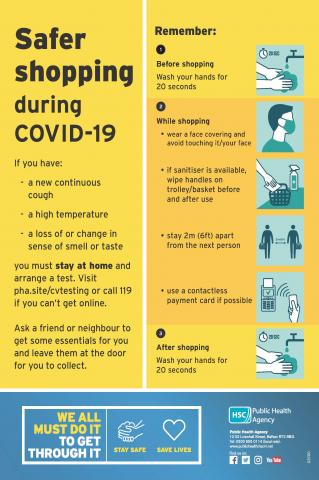 This poster is for retailers to print off and display for their customers in order to help prevent the virus spreading while shopping. Guidance for testing and tracing for COVID-19 has changed since publication, see Coronavirus (COVID-19): testing | nidirect for details.
These posters have been translated into 12 languages available to download below. Other languages may be available upon request by contacting us.
If you need information in a language that is not yet available here, you can use the ReachDeck facility on this website. This option can translate and/or read aloud over 90 other languages. Instructions for how to use ReachDeck are available to download here.
An accompanying video is also available here: www.vimeo.com/413962767
Details
Format
A4 poster, PDF only
Target group
General public, retailers