Test Trace Protect needs everyone's support – leaflet and translations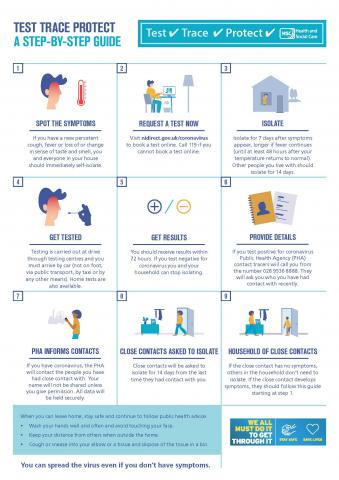 This leaflet outlines how testing and contact tracing can help to break the chain of transmission of coronavirus to reduce the risk of a second wave of infection. It provides a step-by-step infographic guide to explain what you should do if you have symptoms, including self-isolating, getting tested and assisting the contact tracing service to identify people you have been in contact with. The infographic is also available separately.
The leaflet has been translated into 11 languages. Other languages may be available upon request by contacting us.
If you need information in a language that is not yet available here, you can use the Browsealoud facility on this website. This option can translate and/or read aloud over 90 other languages. The full list of languages available is here and instructions for how to use the Browsealoud option are available to download here.
Additional information
The PDFs have been updated with new advice on the increased length of time for self-isolation for those with symptoms.
Details
Format
2 page A4 leaflet and 1 page A4 infographic
Target group
General public