Don't put patients at risk: make hand hygiene your priority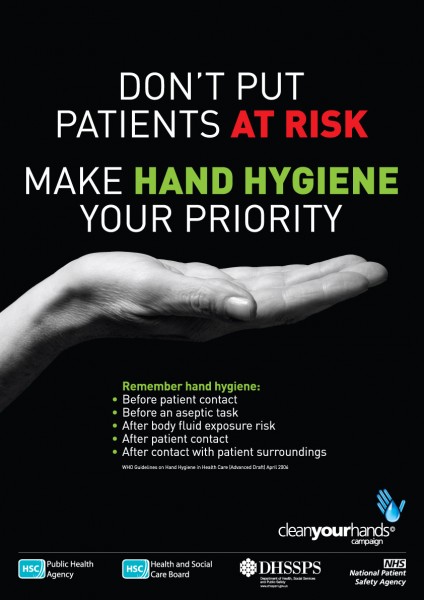 This poster is part of an extension of the cleanyourhands campaign, aimed at preventing the spread of healthcare associated infections (HCAIs) in community healthcare settings including primary care and dental services, residential and nursing homes (including independent sector homes), hospices and independent clinics/hospitals. It is designed to heighten awareness among staff in clinical/treatment areas of their power to help protect patients from avoidable infections by cleaning their hands.
Due to licensing restrictions, this poster is not available for download. Limited numbers are available from local HSC Trusts (Belfast HSCT and South Eastern HSCT on 028 9056 5862; Southern HSCT on 028 3741 2887; Northern HSCT on 028 2563 5575; Western HSCT on 028 7186 5127). 
Details
Target group
Healthcare staff