International Clinical Trials Day 2017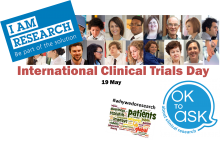 International Clinical Trials Day helps to raise awareness of the benefits of research.
Each year, on International Clinical Trials Day (ICTD), HSC R&D Division and its HSC partners highlight that it's 'OK to ask' about clinical research.
'OK to ask' is about encouraging patients, carers and the public to ask their health professional about research opportunities that might be available to them and remind health and social care professionals to be research aware. (Please look below for ways to support the campaign)
This year we would also like to give patients, the public and health and social care research professionals a chance to shout about how fantastic research is and the positive impact it has on peoples lives. In the last five years, 25,000 HSC service users in Northern Ireland have helped improve healthcare and develop life-saving treatments by taking part in health and social care research. This research drives new and better treatments.
To read a few stories from our PPI representatives, and healthcare professionals we fund about their experiences of research click here
For details of the Why We Do Research campaign click here
To see a local example of the benefits of taking part in a clinical trial click here