Proud Quitters-Smokers urged to quit on No Smoking Day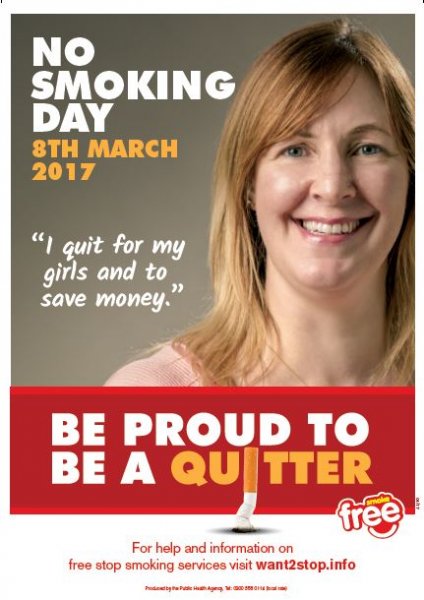 This No Smoking Day, Wednesday 8 March, the No Smoking Day Coordinating Committee is urging smokers to become 'Proud Quitters' by using stop smoking support services available across Northern Ireland  to help them quit.
No Smoking Day coincides this year with the first anniversary Northern Ireland going Smoke Free across all health and social care facilities and grounds, the first in the UK. By creating smoke free environments, supported by stop smoking services, the health service hopes to take a big step forward in empowering people to quit their habit and live healthier lives.
Colette Rogers, Head of Health and Social Wellbeing Improvement at the Public Health Agency (PHA), said: "We know that one in every two smokers will die from tobacco related disease. Stopping smoking isn't easy, but help is at hand. There are over 650 stop smoking services available across Northern Ireland, funded by the PHA and free for smokers to avail of. Services are run by specially-trained staff who can advise on the best way to quit and are offered in many community pharmacies, GP practices, HSC Trust premises, schools, and community and voluntary organisations, and can be set up in workplaces. 
"Giving up smoking is often tough and different approaches will work for different people. While some people might be able to do it with very little support, others find that planning ahead and making use of the stop smoking support services that are available can really help make their decision permanent. That's why it is good to plan an approach to stopping that is most likely to work for you." 
Gerry McElwee, Head of Cancer Prevention at Cancer Focus NI, said: "Stopping smoking is the single best thing you can do for your health – overall your health improves significantly soon after you stop.
"No Smoking Day is one of the best times for smokers to escape their addiction so we are encouraging them to make today the start of their smoke free lives. Cancer Focus NI is one of many organisations that provide a wide range of support services and has an excellent track record in helping people as they quit.
"We urge smokers to use these free services and make No Smoking Day the first day of their smoke free future.
"If you quit and then relapse, accept it, work out why it happened, and focus on how you can avoid it in future. It may take several efforts for some people to quit for good but if you are determined you will do it."
The PHA and Cancer Focus Northern Ireland offer some helpful tips to keep you on track:
Let people know that you are quitting on No Smoking Day so they can support you. Try to encourage a group of your friends or family to stop with you and support one another.
To get started: review your smoking habits and change your routine to avoid situations when you usually smoke.(it's better to separate the activities of smoking and coffee completely) If you smoke first thing in the morning, take a shower instead or if you smoke when you are on the phone hold a pencil and doodle. If you smoke on your way to work, make your car smokefree.
In the first few days after quitting, drink lots of water and fluids to help flush out the nicotine and other poisons from your body. Go to places that are smoke free. 
Don't fall into the trap of having 'just one' cigarette. Be on your guard against temptation – one cigarette can easily lead to another.
Instead of smoking, use the 'tangle' found in the PHA's free stop smoking resource 'Quit Kit' as an alternative for something to do with your hands. You can order your kit free of charge by visiting www.want2stop.info. Alternatively, occupy your hands with a stress or tennis ball.
When you feel like smoking a cigarette, try texting or ringing a friend – it will help the craving to pass and take your mind off it.
Avoid eating high-energy, high-sugar snack foods in place of cigarettes; try fresh fruit, a low-fat yogurt or sugar-free gum instead. 
Keep active. Walk more; go for a swim or a cycle; dance to music at home; do some vacuuming; gardening; or, wash the car. Any physical activity produces chemicals in the body which make people feel better. Physical activity has been shown to help quit attempts and will help to reduce weight gain.
Put the money you are saving on cigarettes away so that you can buy something you really want. It can help motivate you when things are tough. Quitting a 20-a-day habit will deliver an average £3,420 a year saving.
For more information on the services available and useful tips to stop smoking, visit the PHA's Want 2 Stop website at www.want2stop.info where you can also order a Quit Kit free of charge which will help you on your quit attempt.