Sun Awareness Week – don't sizzle in the sun this summer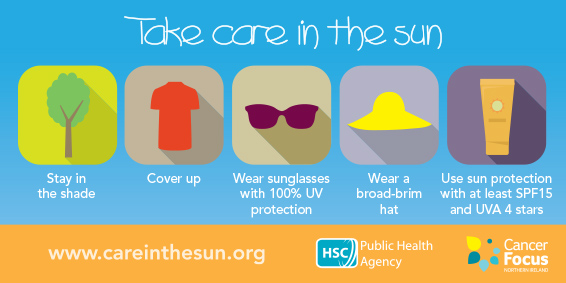 During Sun Awareness Week (8 to 14 May 2017) the Public Health Agency (PHA) and Cancer Focus Northern Ireland are reminding people that the only thing that should be sizzling this summer is the food on their barbecue as they urge people to take care in the sun.
Dr Miriam McCarthy, Consultant in Public Health Medicine at the PHA, explained: "Having had our first spell of warm sunny weather there is a need to remind everyone of the importance of sun safety and the need to be extra careful considering most of us will not have had any UV exposure during winter months. 
"Being active and having fun outside is good for our health, not only does it increase our moods and allow us to get more active outdoors but it provides vitamin D, an essential vitamin for everyone, to help develop and maintain healthy bones, teeth and muscles. Our bodies can make most of the vitamin D we need from sunlight on our skin during the 'summer' months (April to the end of September).
"However the sun can cause permanent damage to our skin if we don't take precautions. Just one episode of sunburn, especially in childhood, doubles the lifetime risk of malignant melanoma, the most serious form of skin cancer."
Marbeth Ferguson, Skin Cancer Prevention Coordinator at Cancer Focus NI, said: "It's important to remember the care in the sun messages both at home and abroad. Everyone is at risk of sun damage, but certain groups are particularly at risk, including those with fair hair and skin, babies and children, outdoor workers and people with a family history of skin cancer. It is therefore vitally important that all of us take the necessary steps to protect ourselves in the sun and actively reduce the risks of skin cancer."
There are a number of simple steps that will help protect against the sun's harmful rays:
Seek shade when the sun is at its strongest – generally 11am to 3pm.

Cover up in the sun with a long sleeved t-shirt and a hat.

Wear sunglasses that have one of the following, CE and British Standard Marks, carry a UV 400 label and offer 100% UV protection. This will ensure they provide adequate protection from both UVA and UVB.  Sunglasses should fit your face well and relatively snugly so that light doesn't enter your eye from around the lens.

Use sunscreen with a minimum SPF of 15 for UVB protection and 4-star for UVA protection. Apply liberally 30 minutes before going out in the sun and re-apply at least every two hours.
If you are concerned about skin cancer you can call the Cancer Focus NI free information and support Nurseline on 0800 783 3339 or email one of the charity's nurses on nurseline@cancerfocusni.org
For more information and advice on how to protect your skin visit www.careinthesun.org