HSC R&D supports research that provides high quality evidence to improve care for patients, clients and the general population, and adds to our understanding of health, disease, treatment and care.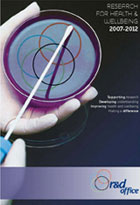 Our work is directed by a strategy that is developed through wide consultation. The current strategy Research for health and wellbeing is built on five strategic goals:
We work closely with:
clinical and academic researchers based in Health and Social Care Trusts (HSCTs) and universities;
policy-makers in the DHSSPS;
practitioners throughout HSCTs;
staff in other HSC bodies;
members of the public, including patients and clients.
HSC R&D works in partnership with other public sector organisations, charities and businesses that are involved in health and social care research across the UK and internationally. Those partnerships are vital to the funding and delivery of our programmes and initiatives.
A more in-depth overview of the HSC R&D division is available here.