Diabetic Eye Screening Programme (also known as Diabetic Retinopathy Screening)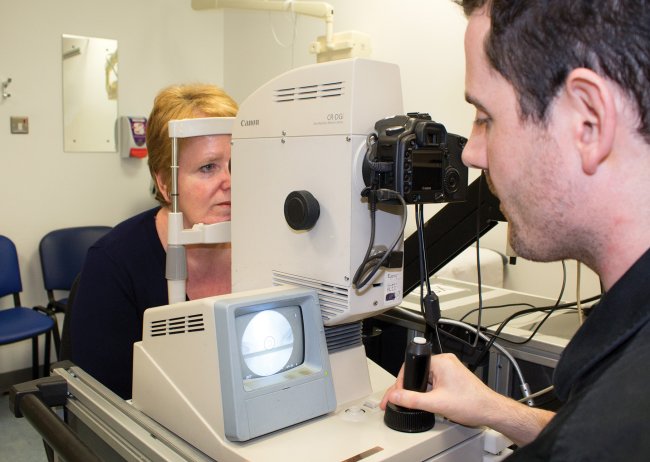 Diabetes is a common condition that affects approximately 4.7% of the population.
Around 87,000 people (and increasing) in Northern Ireland have been diagnosed with the condition. That's approximately 1 in every 22 people. 
Diabetic eye screening is currently offered every year to patients aged 12 years and over. The only exception is people who have no light perception in either eye.
The aim of screening is to reduce the possible complications of diabetic retinopathy, which can cause sight loss and blindness. It is among the most common causes of blindness in people of working age.
If retinopathy is identified early - for example through screening - and treated appropriately, sight loss can be prevented in the majority of people with diabetes.
The Diabetic Eye Screening Programme (DESP) Regional Centre is based in Forster Green Hospital, but screening is carried out across Northern Ireland at GP practices and static sites. 
Primary care practices have registers of patients with diabetes and this information is used to identify the people who need to be invited for screening. People eligible for screening will be invited at least once a year.
The appointment booking office is at Belfast Trust and can be contacted on 028 9063 9599.
Modernising the screening progamme
The screening programme is currently being modernised. The current phase of this project is looking at the service delivery model for the programme and the options for change.
The document below has been produced, which reviews the options available, and outlines their advantages and disadvantages. Screening coordinators are seeking the opinions of those involved or affected by the programme. If you would like to be included in this pre-consultation process, please complete the questionnaire below and return by email or post using the contact details provided on the questionnaire.
Pre-consultation DESP options Oct 2017.pdf
Pre-consultation questionnaire Oct 2017.docx
Annual report
Northern Ireland Diabetic Eye Screening Annual Report 2016-2017
Further information