Temporary pause of some population screening programmes
Some population screening programmes in Northern Ireland have been paused for the time being. This decision has been made, in agreement with the Health Minister, so that Health and Social Care (HSC) staff and resources can be redeployed in response to COVID-19 and to reduce the risk of exposure to the corona virus for the public and HSC staff.
This position will be kept under review, but is likely to last for up to 3 months in the first instance.
The following screening programmes are now paused:
Abdominal Aortic Aneurysm screening and surveillance monitoring;

Routine breast screening;

Bowel cancer screening;

Routine cervical screening; and

Routine diabetic eye screening

and surveillance monitoring.
Screening will continue to be offered to people who require:
Higher risk breast screening.  Although all eligible women will be being screened at the higher risk screening unit in Antrim Area Hospital (previously women who required mammography only were able to have their screening at their local breast screening unit).

Diabetic eye screening

for pregnant women (sight saving laser treatments and urgent intravitreal injections will continue to be provided)

Antenatal infections screening.

Newborn blood spot screening.

Newborn hearing screening.  However, this programme will be focused on completing screening prior to discharge from maternity units only.

Tests for non-routine cervical screening (e.g. repeat tests requested by colposcopy or the laboratory).
FAQs
What should I do if I have a kit at home that I've not completed?
If you have a bowel screening test kit which you haven't used, you may wish to keep it safe until we re-start the programme. You can then do the test and send it to us. We are still testing any kits that are returned but should you require further diagnostic tests, these are currently paused at this time.
I have already completed my test but not sent it back yet.
If you have already completed your bowel screening test kit, return it in the envelope provided.
I have already completed and returned my test kit but have not received my result.
The lab is still testing all samples received so you should get your results letter shortly.
I've just turned 60 and was expecting to receive my invitation but haven't received it?
Please be assured that you'll receive your invitation when screening re-starts.   
What happens if the results of my test show I need further investigation?
If blood is found in your sample, further investigation is required to find out the cause of the bleeding.
Unfortunately, due to the COVID-19 situation, there will be a delay in your assessment taking place. A colonoscopy increases the risk of spreading the virus between staff and patients so it is not safe to do these procedures at this time.
Medical and nursing staff are also required to focus on patients affected by the virus.  
I need a colonoscopy. Does this mean I have cancer?
We know a delay to your colonoscopy may cause you considerable anxiety. Please remember that:
Over 9 out of 10 people requiring a colonoscopy do not have bowel cancer, and in those that do it is usually at a very early stage
It's much more likely that you have a polyp. This is a small growth which is quite harmless in itself, but may develop into cancer in the future if left untreated.  It's therefore very important to remove polyps
It's unlikely that the delay in your colonoscopy will cause any harm.
When will I get my colonoscopy?
We'll ensure that you have your colonoscopy as soon as it is safe to do so. You will receive a letter inviting you for this. 
What should I do as I wait for bowel screening to re-start?
While the bowel screening programme in Northern Ireland is temporarily paused due to the coronavirus (COVID-19) outbreak, it's important to be symptom aware.  If you notice anything unusual such as blood in your poo, a change in bowel habits or abdominal (tummy) pain, contact your GP practice.
___________________________________________________________________________________________________________________________
'Taking the test could save your life'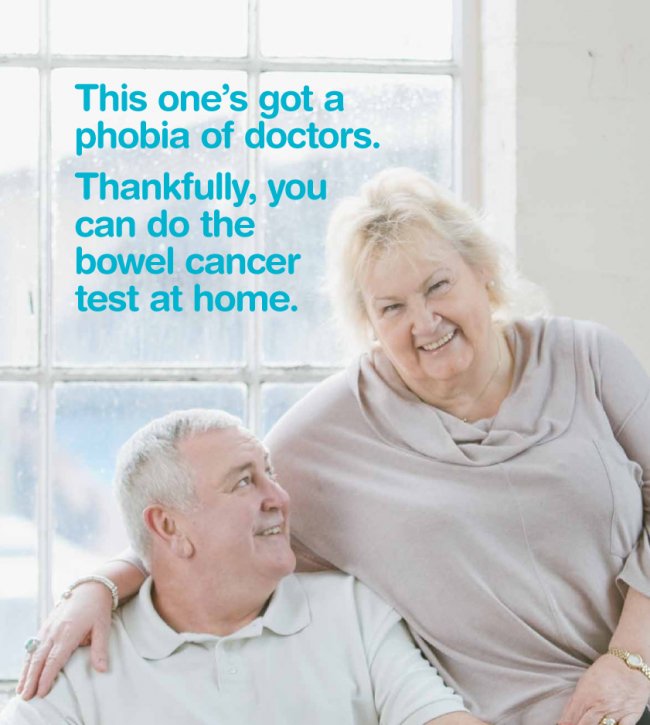 Bowel cancer is a significant cause of ill health and premature death. Over 1,000 people every year in Northern Ireland are diagnosed with the disease and over 400 will die.  Symptoms often develop late in the disease, leaving limited scope for treatment and potential cure.  If detected at a very early stage bowel cancer treatment can be 90% successful.
The bowel cancer screening programme, which allows early detection and treatment, significantly improves outcomes for those with the disease which will save approximately 60 lives a year. 
The programme was announced in April 2010 and implementation has been rolled out across Northern Ireland on a phased basis. As of January 2012 bowel screening is now in place across all Health and Social Care Trusts and from April 2014 will also be extended to the age of 74.
Bowel cancer screening is the third cancer based screening programme in Northern Ireland, following breast cancer and cervical cancer screening. It is the first cancer screening programme in Northern Ireland to include men.
The bowel cancer screening programme involves the use of a home testing kit to collect a sample of bowel motion. Completed tests kits are returned to a laboratory which looks for traces of blood in the sample. Blood indicates that further investigations, usually a colonoscopy, are required.
The Northern Ireland Bowel Cancer Screening Programme is supported by a comprehensive communications plan which encourages participation through an integrated programme of public relations; a mass multi-media campaign that includes television, radio and press.
For further information on bowel cancer screening please see:
Bowel cancer screening programme awareness campaign: Radio advertisement
Bowel cancer screening programme awareness campaign: Television advertisement
Bowel cancer screening: how to take the test
Bowel cancer screening: the repeat test
Bowel cancer screening: the next step