"Taking the test could save your life" – PHA launches bowel cancer screening programme awareness campaign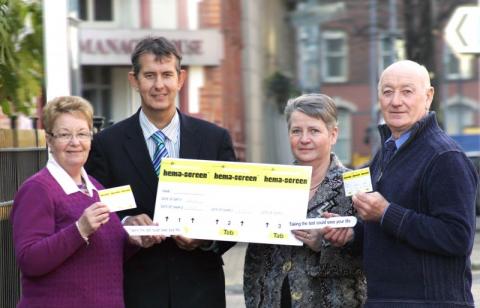 Bowel cancer screening could save approximately 60 lives a year in Northern Ireland, the Public Health Agency (PHA) said today as it encourages participation in the Northern Ireland Bowel Cancer Screening Programme with a new public awareness campaign.
Bowel cancer is the second most common cancer in Northern Ireland and claims the lives of 400 local people each year*, but when detected at a very early stage there is a 90% successful treatment rate.
All men and women aged 60-69 year are currently invited for screening every two years and from April 2012 this will be extended to everyone aged 60-71 years.
Health Minister Edwin Poots joined Dr Janet Little, Assistant Director of Service Development and Screening, PHA, at today's launch to encourage all eligible men and women to take the Faecal Occult Blood Test (FOBT).
Health Minister Edwin Poots said: "Bowel cancer is the second most common cancer in Northern Ireland and this regional screening programme has the potential to reduce deaths from bowel cancer by 15%.
"This is the third cancer screening programme to be introduced in Northern Ireland following breast and cervical screening, and it is the first programme to include men. It is important for people to encourage their loved ones to take this life saving test every two years when invited."
Dr Little said: "Bowel cancer screening, which is now available across Northern Ireland, will save approximately 60 lives here each year. The screening programme uses a home test kit and is aimed at people who do not have any symptoms. The test is very simple to do and can be completed within the privacy of your own home.
 "Test kits will be sent out to the address which your GP has for you. It is therefore important that your GP has your most up to date address or you may miss the chance to take part in the screening programme.
"Each year in Northern Ireland 1,000 people are diagnosed with bowel cancer* and there are over 400 deaths but the good news is that the earlier the cancer is detected the chances of successful treatment improve significantly."
The screening kit is used to detect traces of blood in the bowel motion, which if found can lead to further tests. Most people who are tested will have no blood in their bowel motions and will be invited to repeat the screening test two years later. Only 10 people in every 500 who complete the test kit will have traces of blood in their bowel motion and only one of these will have bowel cancer.
Omagh pensioner Margaret Fenton, 68, who spoke at today's launch following surgery for bowel cancer in 2010, urges people to take the test: "It saved my life. I had no symptoms at all and felt normal and extremely well and yet results showed I had bowel cancer. It was such a shock but thankfully it was caught in the early stages and once I had my surgery I did not need a colostomy bag or any further treatment.
"The doctor told me my cancer was caught so early on that I would only be noticing signs and symptoms of something being wrong six months or a year later. I feel very lucky that my cancer was detected because I did this simple test. I would encourage everyone to take the test when it come through the post as it could save your life – it saved mine."
Anyone who has received the test kit and has questions about how to use it please call the Freephone Helpline number 0800 015 2514.
The bowel cancer screening programme is supported by a mass multi-media campaign that includes television, radio, press, outdoor advertising on buses and washroom advertisements. It runs from February 6–March 31, 2012.
Further information
Contact the Public Health Agency on 028 90553663
Notes to the editor
* Source: Cancer Registry.
World Cancer Day takes place every year on 4 February and is the singular initiative under which the entire world can unite together in the fight against the global cancer epidemic.
The Department of Health is launching a national bowel cancer awareness campaign in England on 30 January 2012 which will run for nine weeks until the end of March. It aims to raise awareness of the symptoms of bowel cancer.