Be aware of the symptoms of CO poisoning as temperature drops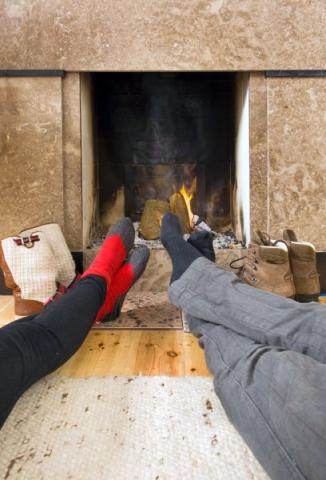 With a yellow weather warning for snow and ice in place for the next few days, the Public Health Agency (PHA) is reminding everyone as the temperature drops and people turn up the heat to be aware of the symptoms of carbon monoxide (CO) poisoning.
Carbon monoxide poisoning can be fatal and can also cause long-term health problems if people are exposed to low doses over a long period of time. The signs and symptoms of carbon monoxide poisoning are often mistaken for other illnesses such as food poisoning or flu – the symptoms can be similar to flu but without a raised temperature. Please look out for these signs and symptoms and consider if carbon monoxide poisoning could be the cause if they are present.
Anyone who suspects they may be experiencing carbon monoxide poisoning should immediately turn off all appliances, go outside, and seek medical help from a qualified healthcare professional. Appliances should not be used again until they have been serviced by a registered engineer.
It is important to keep warm during the cold weather, and you can do this by:
heating your main living room to around 18-21ºC (64-70ºF) and the rest of the house to at least 16ºC (61ºF);
heat all the rooms you use in the day;
if you can't heat all your rooms, make sure that you keep your living room warm throughout the day.
However, it is important to make sure your heating is safe and that your house is properly ventilated, to reduce the risk of carbon monoxide poisoning.
To minimise the risk of carbon monoxide poisoning the PHA recommends the following:
sweep chimneys and flues every year if you use solid fuel;
keep flues, air vents and grilles clear and ensure rooms are well ventilated;
if you are in rented accommodation that incorporates gas appliances, ask your landlord to provide you with an up-to-date gas safety record. This is a requirement by law and is particularly important for students renting houses and flats;
install an audible carbon monoxide alarm that meets British or European standards (BS Kitemark or EN 50291). These cost as little as £20 and can be purchased from large DIY stores and food retail stores. Alarms however, should not be used as a substitute for regular servicing of appliances.
You can also help keep warm by:
wearing plenty of thin layers, rather than one thick one;
putting on a coat, hat, scarf, gloves and warm shoes or boots when you go outside, even if it is just to get coal or go to the bin;
wearing clothes made of wool, cotton, or fleecy synthetic fibres;
wearing bed socks and thermal underwear at night;
And eat well – food is a source of energy which helps to keep your body warm. Try to make sure you have hot meals and drinks regularly throughout the day.
To find out more about carbon monoxide signs and symptoms see: www.nidirect.gov.uk/conditions/carbon-monoxide-poisoning
Who to contact if you need further help
If you are worried about a relative or an older neighbour, contact your local council. There is also help and support from the charity Age NI. The Age NI website has information on how to stay warm in winter which contains useful contact numbers and advice: www.ageuk.org.uk/northern-ireland
Ends