Enhanced rollout of online Stress Control Classes announced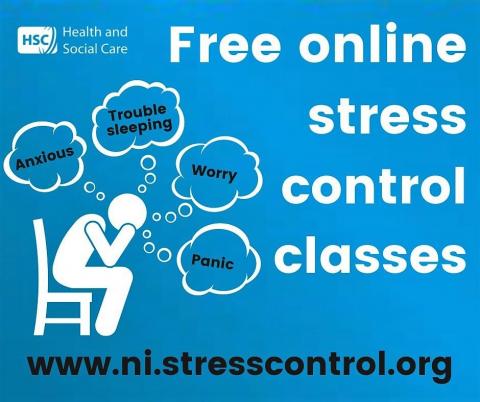 A new programme of free online Stress Control classes will start on 13th July 2020 with classes running on a monthly basis until December 2020.
The programme has been developed to support people dealing with the effects of the pandemic on their mental health and emotional wellbeing.
Topics covered include an overview of what stress is, controlling your body and your thoughts, controlling your actions, and techniques to get a good night's sleep. Stress control is a class, not 'group therapy'. People can take part in the class from the privacy of their own home.
Dr Kevin Dyer, Psychology Lead for Health and Social Care Trauma Network said:
"We are delighted to announce an enhanced rollout of online Stress Control classes for people in Northern Ireland.. The first two courses, which ran at the height of the COVID-19 pandemic, were hugely successful. Approximately 8,000 people attended each class with feedback stating that the course was incredibly useful in helping them manage their overall wellbeing and the stress associated with the pandemic.
"It is clear that people are eager to learn skills to manage stress in these difficult times. We have responded to this need by commissioning six additional courses of the Stress Control Classes that will run exclusively in Northern Ireland each month from July to December. We hope these classes will continue to help support the psychological wellbeing of our population."
The classes are presented by Dr Jim White, a Clinical Psychologist, and will be available at www.ni.stresscontrol.org
Fiona Teague, Mental health and emotional wellbeing lead at Public Health Agency, said:
"The free Stress Control classes have always proved very popular. They were previously held in a physical space within the community, but going online is an excellent way to make them available to even more people as they can be accessed from home.
"People are experiencing emotions and feelings of stress they may never have encountered before. They may be feeling overwhelmed and would like some guidance on how manage their feelings and actions, this is the course for them."
Participants don't have to register or log in for the course they simply click on the link for the July course and watch the streamed classes twice a week for 6 weeks.The classes can be watched in the afternoon or evening and last for 90 minutes.
Support booklets and self- assessment, relaxation and mindfulness tool are also available in the 'Free zone'.
The free online Stress Control classes are being supported by the Department of Health, Health and Social Care Board, Health and Social Care Trusts and Public Health Agency.