A Fitter Future for All - framework launched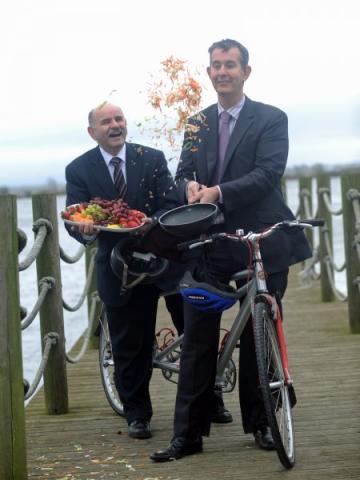 Obesity is a modern lifestyle epidemic that is threatening our health and well-being.
This was the key message delivered by Health Minister Edwin Poots at the launch of The Framework for Preventing and Addressing Overweight and Obesity in Northern Ireland 2012-2022: 'A Fitter Future for All'. 
This ten year strategy will seek to improve the health and wellbeing of people throughout their entire life, from newborns to seniors.
Minister Poots said: "We need to face the issue of obesity head on. It's an issue that will require commitment and action from across all sectors, including other government departments and agencies. It is therefore my intention to invest more than £7 million towards tackling the problem of obesity over the next three years.
"The negative impact on health caused by obesity cannot be over stated.  Being obese increases the risk of developing serious illnesses such as heart disease, stroke, some cancers and type 2 diabetes.
"It is a significant challenge facing modern society and if we don't tackle it now we are storing up a multitude of problems for ourselves in the future."
The Minister continued: "More and more of our children and young people are becoming overweight or obese and are putting themselves at risk of developing a range of health problems in their later years.
"Evidence shows that it is more likely that an obese child will become an obese adult. This in turn will lead to a greater strain on our health and social care services, with more people requiring treatment for obesity related illnesses and specialist care."
The proposed framework looks to address a number of key issues, including:-
increasing levels of breastfeeding;
increasing knowledge and skills about food and its preparation
encouraging participation in physical activity;

promoting walking and cycling;

making sure how we live and where we live encourages and supports
           healthy eating and physical activity;

encouraging and supporting more community involvement with these issues; and;
continuation of reformulation of processed foods.
The Minister added: "In Northern Ireland 59% of adults are either overweight (36%) or obese (23%). Another worrying statistic is that 8% of children aged 2-15 years were assessed as being obese. These figures demonstrate the scale of the problem and the enormous challenge we are facing.
"The new framework sets challenging targets. To date we have focussed on simply trying to stop the rise in the levels of obesity, however under A Fitter Future For All we are seeking to actually reduce the level of obesity by 4% and overweight and obesity by 3% among adults. In addition, we are seeking a 3% reduction of obesity and 2% reduction of overweight and obesity among our children and young people."  
"Meeting these targets will require changes in our lifestyles and behaviours.  Most importantly, individuals need to be given the opportunity to make decisions that will benefit their own health and wellbeing".
Referring to the 'Give It A Go!' initiative, to increase awareness of the range of nutritional and physical activity initiatives in the southern area, the Minister said: "The Give It A Go! Initiative is a great example of how collaborative work can make such a positive contribution to peoples' lives by providing opportunities for learning, participation in physical activity and for social interaction.
"Tackling obesity and seeing positive results throughout the life course of the entire population will take time but I strongly believe that the actions set out in this framework will inspire and enable people to improve their diets and be more active."
Encouraging people to consider the framework and adopt a healthier lifestyle, the Minister concluded: "Government cannot tackle obesity on its own.  We can encourage and promote healthy eating and physical activity but as a society, we must take more individual responsibility for our own health outcomes."
Dr Tracy Owen, Consultant in Public Health Medicine with the PHA, said: "The PHA is already working with partner organisations across many of the areas included in the framework 'A Fitter Future for All' and is addressing issues such as developing people's skills and knowledge about healthier eating along with encouraging participation in physical activity. The framework gives us the opportunity to raise awareness of this important area and strengthen action.
"As the Minister has mentioned, a good example of this coordinated action is the PHA supported initiative Give it a Go! which is providing people in the Southern area with the opportunity to learn about food through supermarket tours and Cook it! classes and to get active through walks, spinning classes and many other activities, all of which are free. These taster sessions are aimed at raising awareness of healthier lifestyles which will ultimately make changes in behaviour more likely.
"These changes, no matter how small, can help people to lose weight, maintain a healthy weight and bring big benefits to their general health. Importantly, we have developed this joint programme by working closely with our partners, particularly local councils."
Further information
Contact the PHA Press Office on 028 9055 3663
Notes to the editor
The Framework for Preventing and Addressing Overweight and Obesity in Northern Ireland 2012-2022: 'A Fitter Future for All' aims to empower the population of Northern Ireland to make healthy choices, reduce the risk of overweight and obesity related disease and improve health and wellbeing, by creating an environment that supports and promotes a physically active lifestyle and a healthy diet.
Obesity is usually measured by Body Mass Index (BMI), which is a function of person's height and weight. In adults having a BMI of 25-30 is classified as being overweight and having a BMI of 30 or more is classified as obese.
Obesity occurs when an individual takes in more energy through food and drink than they expend through natural bodily processes and physical activity.
The Health Survey Northern Ireland 2010-11 recorded that of the children aged 2-15 years, 8% were assessed as being obese based on the International Obesity Task Force guidelines, 8% of boys and 9% of girls.
In 2008/09 the Child Health System reported that 5.3% of Primary One children surveyed were obese whilst 22.5% were described as overweight or obese.
The Health Survey Northern Ireland 2010/11 reported that overall, 59% of adults measured were either overweight (36%) or obese (23%).
Evidence shows that obesity:
reduces life expectancy by up to nine years;
increases the risk of NI's biggest killers, coronary heart disease and cancer;
increases the risk of developing Type 2 diabetes, an obese women is ten times more likely to become diabetic than one who is not overweight; and
can impact on emotional/psychological well-being and self-esteem, especially among young people.
The draft Programme for Government, which has just finished its public consultation, recommends an investment of £7.2 million over the next three years into the new Obesity Prevention Framework.