Flu vaccine reminder as cases increase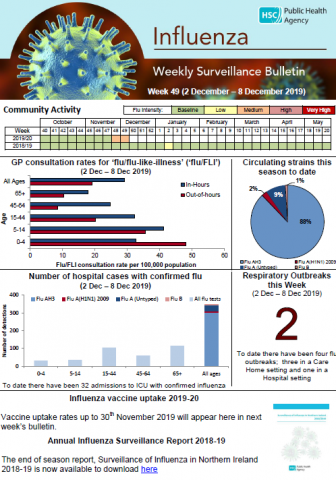 The Public Health Agency (PHA) is urging all people eligible for the free flu vaccine who have not yet been vaccinated to get it now. Flu has recently started to circulate in Northern Ireland, so people should receive the vaccine before it spreads more widely. The sooner you get it, the better protected you will be.
Parents of pre-school children are urged to maximise protection for their children against flu, which can be a serious illness, by getting them the nasal spray vaccine. Those aged 65 and over, under the age of 65 with underlying health conditions, and pregnant women are also more likely to develop serious complications from flu, so should get vaccinated too. People should make themselves aware of their GP surgery's flu vaccination arrangements and then visit their GP to get vaccinated and help protect themselves against the virus.
The primary school vaccine programme is once again operating as normal in schools following a temporary pause in ordering the vaccine across the UK, caused by manufacturer delays. Affected primary school clinics have been rescheduled by the Trust School Nursing Service for as soon as possible, taking into account school closures over the Christmas period.
Dr Jillian Johnston, Consultant in Health Protection at the PHA, said: "The flu vaccine is the best defence we have to help protect people from getting flu, which can cause severe illness and complications, such as pneumonia, for those in at risk groups. Unfortunately flu can also be life-threatening for some. If you are in an eligible group, I would urge you to get the vaccine now to ensure you maximise your ability to stay well over winter – The sooner you get it, the better protected you will be.
"This year's vaccine helps protect against the most common flu strains circulating this winter. It does not give you the flu – it's free and quick, and could make a big difference to your health and the health of those close to you."
"The message is clear – don't take the risk; get the vaccine."
Dr Johnston continued: "Each year the PHA works closely with Health and Social Care organisations to plan for seasonal flu during the winter months. The increase in cases is not unusual but we are seeing it earlier than expected. Those who do develop flu-like illness can help reduce spreading the infection by maintaining good hand hygiene, covering their mouth or nose when coughing or sneezing, together with appropriate disposal of tissues and staying home when ill with a cough and fever."
The latest flu bulletin can be viewed here www.pha.site/FluBulletin19-20