How to self-isolate in a shared house if you or someone you live with has coronavirus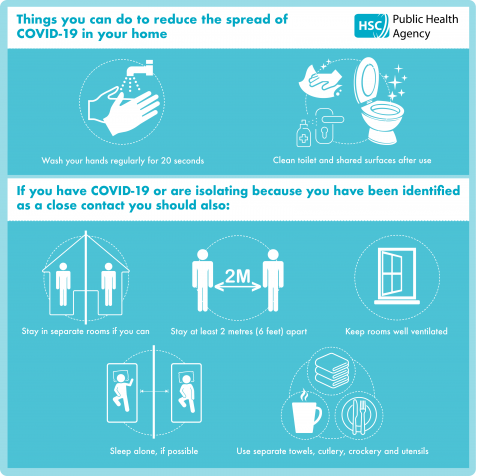 The Public Health Agency (PHA) has offered advice on how to reduce the spread of coronavirus within the home if you or someone in your household tests positive for COVID-19.
Dr Gerry Waldron, Head of Health Protection at the PHA, said: "Most people are aware of the general steps they can take to avoid coming into contact with or spreading COVID-19 such as social distancing, wearing a face covering when required and practising good hand and respiratory hygiene, but implementing these steps and other simple measures within the household if someone in your home tests positive for COVID-19 could also help prevent spread among those close to you.
"COVID-19 is spread primarily from person to person through droplets that become aerosolised and propelled when someone coughs or sneezes, and because the virus can also survive on various surfaces for certain periods of time, it is also thought to spread through direct contact with surfaces exposed to the it. Both of those things make the home of someone living with COVID-19 a likely source for others to pick up the disease.
"We know that transmission is most common in household settings, so to help reduce this, there are many steps people can take to reduce their risk of spreading the disease to others in their household."
"If someone tests positive, they, their household and all close contacts must self-isolate for at least 10 days. However, this also means trying to reduce interaction within the home between the positive case and those they live with and exercising a stringent cleaning regime, as there's no inevitability that everyone will contract COVID-19 if this is done as early and consistently as possible."
Self-isolation means you should:
stay at home, as should other members of your household;

ask friends or family members who are not members of your household to bring you things you need such as medication and groceries or use delivery services for shopping, which must be left outside your home for you take in;

separate yourself from others with the door closed or stay at least 2 metres (around 6 feet) away from people in your home;

stay away from vulnerable individuals such as older people and those with underlying conditions as much as possible;

stay in a well-ventilated room with a window that can be opened to keep air moving;

sleep alone, if possible;

clean toilets/ bathrooms after use if you share them with others (wiping surfaces you have come into contact with every time), or use a separate bathroom from others if you have one;

wash your hands regularly for 20 seconds, each time using soap and water;

use separate towels, bedding , eating utensils and dishes, cups and glasses it all times from others in the household;
You should not:
go to work, public areas or use public transport or taxis;

go outside unless you have access to your own garden;

invite people into your home.
Dr Waldron continued: "Isolating can be really hard, especially when you live with other people or in smaller spaces, but if you test positive for COVID-19 it is an effective way of reducing transmission of the disease. If you are the individual isolating, make sure you take care of your health. Drink plenty of fluids, rest, and take pain medication as per the instructions for fevers or body aches. Pay attention to your symptoms, and call your doctor if you have difficulty breathing.
"It is also important to look after your wellbeing – stay in touch with friends and family as much as you can via the phone, digital and social platforms. If you are feeling anxious or distressed, seek support either through a friend, loved one, GP, or online resources that are available through your local community or HSC organisations."
If you need help to access food, medicines or other products and services because you are self-isolating or struggling to afford it during the winter months, then get in touch with the COVID-19 Community Helpline.
You will be connected with support and services in your area. The helpline is local to Northern Ireland, and is managed by Advice NI.
Freephone number: 0808 802 0020
For more information see www.adviceni.net/coronavirus