Increased targeted schools testing will help stop virus spreading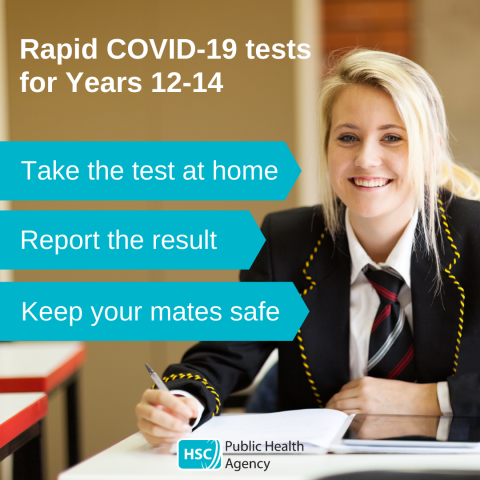 The Public Health Agency (PHA) and Education Authority (EA) are highlighting the importance of asymptomatic testing in schools in reducing the spread of COVID-19 and reminding people that increased testing is likely to see a rise in detection of cases.
As schools return from the Easter break on Monday 12 April the programme of asymptomatic testing – testing those with no symptoms of COVID-19 – for all staff in pre-school settings, primary schools and post primary schools will get under way, alongside testing for pupils in years 12-14.
Dr Joanne McClean, Consultant in Public Health Medicine at the PHA, said: "It's estimated that around one third of people with COVID-19 don't have any symptoms so they could be spreading the infection without even realising they are infected.
"Asymptomatic testing is an extremely important and effective way of helping ensure that those who may have the virus but do not know can take the appropriate actions to reduce the spread of coronavirus and keep others safe.
"It has the potential to be a very effective additional tool to help us reduce the spread of COVID-19 in schools and beyond. For it to work, we need as many people as possible to participate.
"Almost 90,000 school staff and students will be invited to carry out a test twice a week. It is expected therefore that as we carry out more tests we will find a greater the number of cases. However, this shouldn't be seen as a cause for concern, and in fact would reflect that the infection is being detected when it otherwise wouldn't have been, which is a good thing.
"Lateral Flow Devices (LFD) test will be available for all school staff, as well as pupils in years 12-14, and can be carried out by the individual at home. It is a rapid test that can provide results after just half an hour and is simple to carry out. The individual takes a swab of their tonsil area followed by nostrils and the swab is then mixed with a solution. A few drops of the mixed solution are placed on to the reader of the LFD and in 30 minutes a simple indicator tells your result.
"Test results are then recorded online. A negative result does not mean that we should let our guard down and we should not change our behaviours – we still need to carry out all the appropriate public health measures of keeping our distance, washing hands regularly and wearing a face covering where required, in order to help stop the virus spreading.
"Individuals with a positive LFD result need to self-isolate along with their household, and book a PCR test as soon as possible at one of the COVID-19 test sites to confirm their result."
LFD testing for school staff and pupils will be twice weekly, three to four days apart.
The testing programme is for asymptomatic individuals only. If a person has symptoms, they need to follow the existing public health advice, isolate with their household, book a PCR test in the normal way and engage with Contact Tracing Service when required.
Kim Scott, Assistant Director of Education at the Education Authority, said: "Young people have been greatly impacted throughout the pandemic and have experienced significant disruption to their learning. Asymptomatic testing alongside the other measures within schools will help us all to make sure that we're not just protecting each other from the virus, but also helping to maximise the learning opportunities for everyone at this particularly important time."
"Older students in years 12-14 are participating in the testing as prevalence of COVID-19 tends to be higher among this group, so we would encourage as many pupils eligible to participate and keep themselves, their friends and the entire school community safe.
"The LFD testing in schools is an additional measure alongside the range of existing safety measures in place to help ensure the safety of staff and pupils in schools.
"The roll out of this testing programme will provide reassurance for pupils and teachers and parents at this crucial time in the educational journey of these students."
"If a student tests positive or is a close contact and is required to self-isolate, it is important that they do so for 10 days. During this time their school will ensure learning continues remotely."
For more information on the testing programme please go to www.eani.org.uk/covid-19-testing-in-ni-schools
Ends
Notes to editors:
Participation in the LFD schools testing programme is voluntary.

LFD testing for school staff and pupils will be carried out twice weekly three to four days apart.

Results are logged via a portal on the DHSC website.

A negative LFD test result does not enable an individual to drop their guard and people should not change their behaviours.

If a positive LFD test result is detected then the individual must book a PCR test as soon as possible to confirm the result and they and their household must self-isolate.

If the PCR test result is positive the individual and their household and all other close contacts must complete a full 10 days of self-isolation.

Once confirmed positive, the identification of close contacts within the school bubble will commence.

The PHA's contact tracing team, may already have commenced the process of identifying and contacting individuals outside of the school setting who are close contacts.

If the PCR test is negative, the individual and their household can end the isolation period and return to school as normal.

The LFD testing programme is for asymptomatic individuals only. If a person has symptoms, the need to follow the existing public health advice, isolate with their household, book a PCR test in the normal way and engage with contact tracing service when required