Local communities encouraged to apply for PHA Short Term Funding programme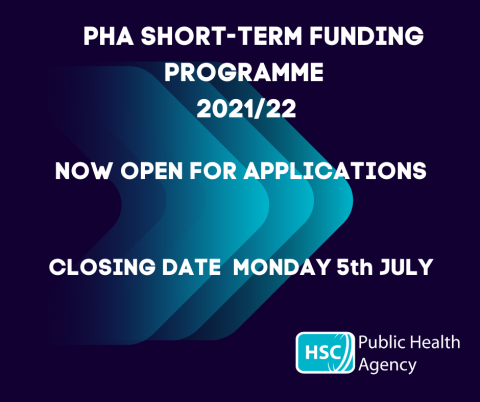 Community and voluntary groups are being encouraged to apply for a short term funding programme which can be used to improve the health and wellbeing of local communities, with a particular focus on improving mental and emotional wellbeing.
The Public Health Agency (PHA) is welcoming the opportunity to work with local groups through its short term funding programme to address health and wellbeing needs in local communities. The grants programme will also support a range of strategic themes and priorities under the 'Making Life Better' public health framework, in particular mental health, emotional wellbeing, suicide prevention and self-harm.
Fiona Teague, Regional Lead for Mental Health at the PHA. said: "We are all aware of the impact COVID-19 has had on our communities over the last year, however, despite these difficulties over 300 projects across Northern Ireland mobilised themselves to benefit from just under £1 million investment by the Public Health Agency (PHA),. This has been used by communities to put in place programmes and interventions to help improve their citizens' health and wellbeing.
"The aim of this funding programme is to continue to support communities throughout 2021/22 to help build back stronger, and in particular to enhance capacity in emotional resilience and mental and emotional wellbeing.
"The Public Health Agency is keen to invest in programmes that have been identified as being needed by communities and have a particular focus on using one or more of the 'Take 5' Steps to Wellbeing'. These are five simple steps that we can build into our daily lives to maintain and improve wellbeing – Connect, Be active, Keep learning, Give and Take Notice.
"This is a great opportunity for community and voluntary sector groups to access resources that can be used proactively to support health improvement in local communities. We are encouraging applicants to work collaboratively to develop innovative projects and most importantly involve local communities in project design."
The short term funding programme provides the community and voluntary sector with the opportunity to access small, non-recurring grants which can be used to support health improvement in local communities. Projects eligible for funding must encourage healthy lifestyle choices and support a range of themes and priorities relating to the 'Making Life Better' strategy.
The remit of the funding programme for this year will allow groups to apply for a range of projects to achieve better health and wellbeing addressing some of the ongoing impact of the COVID-19 pandemic on communities through improved connection and partnership working.
The PHA has commissioned the CLEAR Project to facilitate this process in the Western, Southern, South Eastern and Belfast Health and Social Care Trust areas. Short term funding grants are made available in the Northern area via the four community networks.
Brenda Morris, Manager of the CLEAR Project, said: "Short term funding grants play a vital role in supporting programmes within the community. This work can take a range of forms from self-help and life skills initiatives supporting those in need to giving groups the opportunity to develop and build their capacity to help others."
Two types of awards are available under the programme:
Award one: Grants of up to £1,000 for non-constituted and constituted non-profit taking community/ voluntary sector groups.
Award two: Grants of between £1,001 and to a maximum of £5,000 for constituted, non-profit taking community/ voluntary sector groups.
Closing date for applications is 5th July 12 noon
To apply for the small grants programme for Western, Belfast, South Eastern and Southern Health and Social Care Trust areas go to:
www.dhcni.com/pha-short-term-funding-grants
For further details please contact:
The Clear Project
Unit 13, Strabane Enterprise Agency, Orchard Road Industrial Estate
Strabane, BT82 9FR. Tel: 028 7138 3386 Email: funding@dhcni.com
To apply for small grants programme for Northern Health and Social Care Trust area go to:
The Northern Area Health Alliance: https://healthallianceni.com/funding/
For further details please contact: Amanda McNeilly, Communications & Information Support, Tel: 028 9447 8645, amanda@impactnetworkni.org