Over 94,000 benefit from free online stress control classes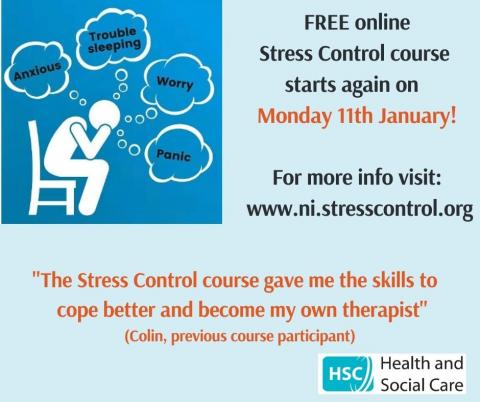 Over 94,000 people took the opportunity to learn skills to help support them in dealing with the effects of the pandemic on their mental and emotional wellbeing between June and December last year.The Public Health Agency (PHA) has now announced three further courses, which will be available from 11th January through to March this year to meet further interest and demand.
Fiona Teague Mental and Emotional Wellbeing lead at the Public Health Agency said: "We were delighted to see the number of people from across Northern Ireland who took part in the free online stress control classes last year. We have responded to the ongoing need by commissioning additional classes as we believe the interest in accessing the support is obviously there.
"People are experiencing emotions and feelings of stress they may never have encountered before. They may be feeling overwhelmed and this is completely normal It is clear that people want to learn more skills to manage stress in these difficult times, so we hope these classes will continue to help support the psychological wellbeing of our population.
"For anyone who would like some guidance on how manage their feelings and actions, this is the course for them."
Topics covered during the Stress Control course include an overview of what stress is, controlling your body and your thoughts, controlling your actions, and techniques to get a good night's sleep. Stress control is a class, not 'group therapy'. The other advantage is that people can take part in the class from the privacy of their own home, meaning that there's no need to meet others in person, which is safe from a COVID-19 perspective, as is also better for stress and wellbeing in the current circumstances. The digital approach is one of the ways that services are adapting to deliver support in innovative ways during the pandemic.
Colin Taylor, one of the previous participants in the course said: "I was feeling anxious and over-thinking things, creating issues in my mind that may never arise. The course gave me the skills to control my reactions and the tools to become my own therapist. You may stumble again, but you won't fall, and the more you use the tools from the course, the more you want to do use them in your everyday life so that it becomes second nature."
The classes were created and presented by Dr Jim White, a Clinical Psychologist, and are available at specially dedicated site for Northern Ireland at www.ni.stresscontrol.org
Dr White said: "We are delighted to be providing the courses again after the amazing response to the stress control online classes last year when, between June and December, 94,000 people in Northern Ireland downloaded our booklets, listened to the relaxation and mindfulness tracks and watched the six videos.
"The free stress control classes have always proved very popular. They were previously held in a physical space within the community, but going online is an excellent way to make them available to even more people as they can be accessed from home. The phenomenal number of people who took part last year is a testament to that, as well as the need it has met.
"The feedback from so many people was wonderful and we look forward to a similar response when these sessions run again over the next three months. No matter what brings you to the sessions, we hope people benefit from them."
Participants do not have to register or log in to view the course – they simply click on the link for the January course and watch the streamed classes twice a week for six weeks. The classes can be watched in the morning or evening and last for 90 minutes. Each course will run for three weeks and comprises of six sessions. A new session is made available at 9am on Mondays and Thursdays and that can be watched 24 hours a day until it is taken down (at 11pm the night before the next session).
Support booklets and self- assessment, relaxation and mindfulness tool are also available in the 'Free zone'.
The free online Stress Control classes are being supported by the Department of Health, Public Health Agency and the Health and Social Care Board.