Parents urged not to ignore signs of type 1 diabetes during COVID-19 pandemic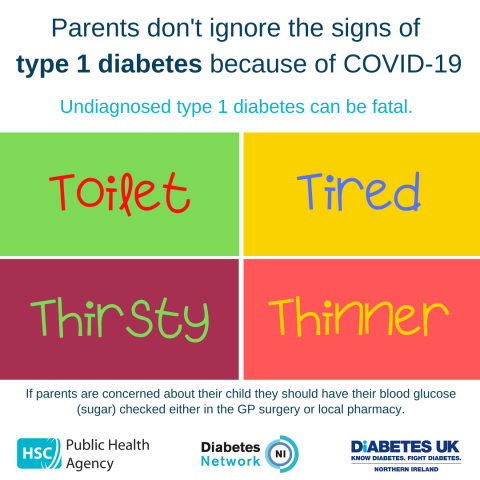 The Public Health Agency (PHA), Diabetes UK and the Diabetes Network are urging parents and carers not to ignore the signs of type 1 diabetes during the COVID-19 pandemic, and are reassuring them that help and support is available for those who need medical attention.
Type 1 diabetes cannot be prevented and occurs when the pancreas is no longer able to produce insulin. It is the most common type of diabetes in children and young adults, but can develop very quickly, requiring urgent medical attention
Every year between 110 and 150 children develop type 1 diabetes in Northern Ireland.
Dr Bríd Farrell, Assistant Director of Service Development at the PHA, said: "Children can develop type 1 diabetes at any time. We therefore want to raise awareness among parents of the four most common symptoms of type 1 diabetes to make sure all children who develop the condition are diagnosed early and without delay. This remains important during the coronavirus pandemic – if symptoms develop, seek urgent support and get your child's blood sugar checked that day."
Symptoms in children and young people can develop over a few days or weeks and parents and carers should look out for the '4Ts':
Toilet – going to the loo a lot, bed wetting starts unexpectedly;
Thirsty – child being really thirsty;
Tired – feeling more tired than usual;
Thinner – losing weight or looking thinner than normal.

With type 1 diabetes, early diagnosis is important in children, otherwise their condition can deteriorate rapidly with serious consequences such as diabetic ketoacidosis (DKA). DKA occurs when the body starts to run out of insulin. This causes harmful substances called ketones to build up in the body, which needs urgent medical attention and hospital admission.
Dr Farrell continued: "It's understandable with the COVID-19 pandemic that people do not want to put extra pressure on the health service or afraid that their child may come into contact with COVID-19 in a healthcare setting. However, if parents are concerned about a child they should have their blood glucose (sugar) checked either in the GP surgery or local pharmacy. Do not delay seeking medical help and advice. If we diagnose type 1 early, we can start early treatment and avoid diabetic ketoacidosis (DKA) and we can also sometimes avoid hospital admission."
Diabetes UK National Director, Tina McCrossan, said: "Diabetes UK uses the 4Ts to help raise awareness about type 1 diabetes as its onset is fast and relentless. The more we know about diabetes the quicker we can take action to prevent devastating outcomes. Parents, carers and anyone who works with children and young people, should know the 4Ts and if symptoms are recognised, CALL your GP or pharmacist and arrange to get your child's blood sugar checked. "
Dr Hamish Courtney, Clinical Director of the Northern Ireland Diabetes Network, said: "Diabetes services remain operational across our Health and Social Care Trusts. I encourage people to continue to seek medical support if they need it."
There are other symptoms aside from the 4Ts that can indicate type 1 diabetes – for further information on the condition, see www.pha.site/type1
DKA is an emergency and needs to be treated in hospital immediately. For further information on the condition, see www.pha.site/dka
The Diabetes Network for Northern Ireland brings together people living with diabetes, carers, and health and social care professionals working in partnership with Diabetes UK.