PHA encourages older people to get back to exercise gradually as lockdown eases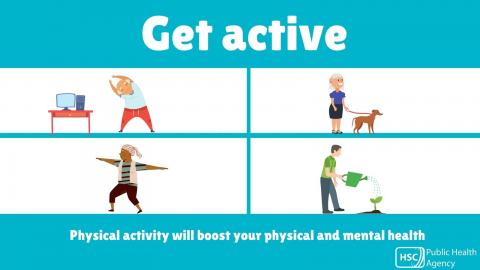 The Public Health Agency (PHA) is encouraging older adults who might not be as active as they were before the pandemic to gradually and safely build exercise back into their daily routine.
Colette Brolly, the PHA's lead on Physical Activity, said: "We recognise that the pandemic has had an impact on all aspects of life, including how much physical activity people have been able to do. Being active is really important and daily activity will help you feel better, boost your immune system, reduce anxiety and stress, build strength in your muscles and bones to improve your mobility, help improve your balance and improve your sleep.
"During lockdown, understandably a lot of people wouldn't have been as active as previously. As the restrictions ease and people start to feel more confident in getting out and about, it is good opportunity to get fitter.
"We are encouraging older adults to get more active but to do this in a gradual and safe way and build up their activity levels slowly. Remember that every movement counts and doing some movement is better than none. It is important to build movement into your day and sit less."
There is no need for special equipment and you can be active anywhere:
Go for a walk in the park;

Use the stairs;

Stand while talking to family and friends on the phone;

Practice sit to stand movement;

Move about between ad breaks whilst watching TV;

Try chair based exercises;

Try on-line exercise classes;

Walk around the house more;

Do some gardening;

Housework counts too;

Do strength and balance exercises.
Colette encouraged older people to get further information on how they can exercise safely. A number of online resources are available:

1. Strength and Balance booklet available at
www.nidirect.gov.uk/publications/strength-and-balance-exercises
2. Age NI has teamed up with Lady Mary Peters to launch an exercise programme aimed specifically at keeping older people moving during the COVID-19 pandemic. You can find out more at
www.ageuk.org.uk/northern-ireland/information-advice/coronavirus-covid-19/movewithmary/