Pregnant women reminded to get the whooping cough vaccine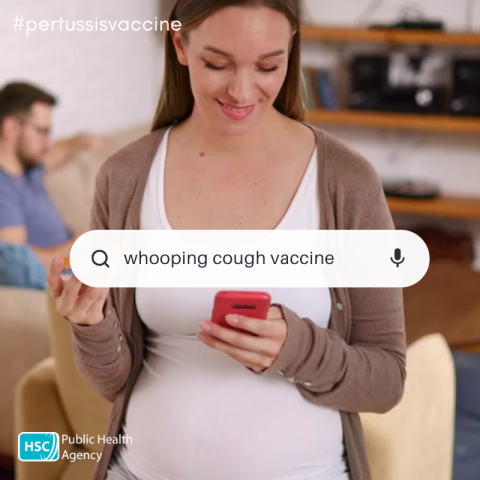 The Public Health Agency (PHA) is reminding pregnant women to get the whooping cough (pertussis) vaccine between 16 and 32 weeks of their pregnancy.
In 2019 in Northern Ireland 205 cases of confirmed whooping cough were reported to the PHA. During this time, when social distancing measures were in place, the number of cases declined, but now that we are mixing more frequently there is the risk that cases of whooping cough could rise again.
The majority of children who are reported as having whooping cough are infants under six months of age and so are too young to be protected by their routine childhood immunisations which are given at two, three, and four months of age. They can however be protected by their mother receiving the vaccination during pregnancy.
Whooping cough is a disease that can cause long bouts of coughing and choking, which can make it hard to breathe. It can be very serious for infants under the age of one year, and sadly even fatal in young babies. The evidence shows that babies born to vaccinated mothers are 90% less likely to get the disease than babies whose mothers were unvaccinated.
Louise Flanagan, Consultant in Public Health at the PHA, said: "Whooping cough tends to circulate in greater numbers in Northern Ireland every three to four years, so we may be due to see a rise in cases in the next few years. However, babies under three months old are too young to have received their routine childhood vaccinations and are at greatest risk of developing more serious disease. It is therefore very important that women receive the pertussis vaccine during every pregnancy so that their baby is protected against whooping cough in their first months of life.
"We want to encourage all pregnant women to get the vaccine and so reduce the risk of their baby catching whooping cough after they are born.
"The best time to get the vaccine is between 16 and 32 weeks of pregnancy, but if a woman misses out, she can still get it later in pregnancy, although the sooner the better. The vaccine is given at your GP's surgery so make sure you make an appointment to get it."
In addition to whooping cough, it is recommended that pregnant women also receive the flu and COVID-19 vaccines. These vaccines are safe to receive while pregnant and will help prevent disease or make the illness less serious. If you have any questions talk to your midwife or GP about the vaccines.
For further information on the vaccinations offered in pregnancy, please see the PHA guidance at pha.site/vaccinesforpregnantwomen