Time to take the scare out of palliative care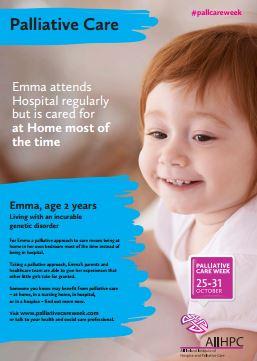 Issued on behalf of the All Ireland Institute of Hospice and Palliative Care.
Public information website on palliative care launched.
It's time to take the scare out of palliative care – that's the message this week as a Northern Ireland wide public information campaign gets underway.
Palliative Care Week is highlighting that a palliative care approach improves quality of life for different people in many different care settings – the home, in a nursing home, in a hospital, or in hospice.
Palliative Care Week 2015 is being coordinated by All Ireland Institute of Hospice and Palliative Care (AIIHPC) and takes place from October 25-31.
To support the need for more information for the public the Institute has launched a major new information website for people with incurable conditions, their families, carers and communities called the Palliative Hub - Adult which can be viewed at www.thepalliativehub.com   
Institute Director, Paddie Blaney, described how a palliative care approach can improve quality of life for people living with a serious or incurable illness – at the right time and in the best place.
"A Palliative Care approach may mean being able to spend most of the time at home and accessing hospice care when symptoms become too difficult to manage, or going in and out of hospital for specialist care when needed, or receiving quality of life care in a nursing home."
"We encourage patients, families and carers to talk with their health and social care professionals about having a palliative care approach included as part of their care. People can find out more about the palliative care journey on the www.thepalliativehub.com  
Palliative Care Week is also being supported by Voices4Care, the Institute's users and carers panel. Spokesperson Anne Molloy highlighted the benefits for families.
"A palliative care approach supports the whole family. This help might take the form of a respite break to enable family members who are carers to rest, or it can mean offering information and support to help manage issues related to the condition or illness."
The Palliative Hub - Adult is one of four websites developed by AIIHPC to provide information on all aspects of palliative care in both the Republic of Ireland and Northern Ireland.
The palliative care awareness drive is being widely supported by health and social care services across the island. Many information events will take place across both jurisdictions. More information at www.palliativecareweek.com
Further information
Further Information
Ronan Cavanagh, Cavanagh Communications: 00353 (0) 86 317 9731.
Twitter: #pallcareweek