World Hepatitis Day – Northern Ireland striving to eliminate hepatitis B and C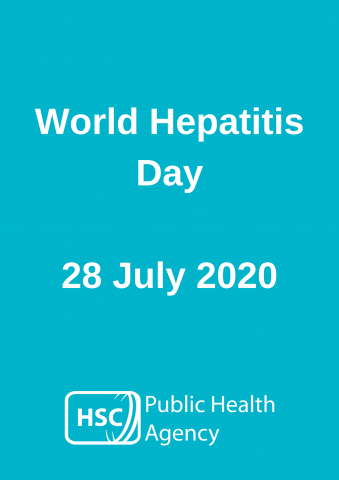 Northern Ireland is well placed to meet the World Health Organisation goal of eliminating hepatitis B and C by 2030 – that's the message from the Public Health Agency (PHA) today on World Hepatitis Day.
One of the main ways of reaching this goal is making people aware of the risks of contracting the viruses and encouraging anyone who thinks they may be at risk of having contracted hepatitis to get tested and seek treatment.
Dr Gillian Armstrong, Consultant in Health Protection at the PHA, said: "Hepatitis B and C can be serious, potentially life-threatening infections.
"There are many people out there who have hepatitis and simply don't realise it, as hepatitis B and C are diseases that you can have for many years without developing any symptoms.
"However, they may be passed on to other people during this time and can lead to liver damage and liver cancer.
"The good news is that if diagnosed, they can be treated and, in the case of hepatitis C cured.
"There are many ways of picking up viral hepatitis, including it passing from mother to baby; coming in to contact with infected blood, for example through injecting substance use, unsterilised tattoo or piercing equipment; and sexual contact.
"The PHA is encouraging anyone who thinks they might have been at risk from contracting hepatitis to get tested and get treated. All the test involves is a simple finger prick or routine blood sample, and it could save your life.
"This test can be requested from your GP, local sexual health clinic or drug and alcohol service."
In Northern Ireland, a total of 115 new hepatitis B infections, and 130 new hepatitis C infections were reported in 2019.
New hepatitis C treatments have been game changing. A tablet a day over a matter of weeks cures the infection in over 95% of people, with minimal side effects.
This is in stark contrast with older treatments which were not as effective and had a lot of side effects.
Hepatitis C treatments are provided by a dedicated team who provide outreach clinics across Northern Ireland.
Dr Armstrong continued: "While there is still a long way to go to meet the WHO goals of eliminating viral hepatitis as a public health threat by 2030, by health and social care services working together effectively we are making real progress which we will build on in the coming years.
"If we continue to work together we can raise awareness of these diseases, prevent new infections, find those who are already diagnosed but unaware, and engage them successfully in treatment.
"Ultimately we need people who may be at risk of having contracted Hepatitis B or C to come forward, get tested and get treated if diagnosed."
The Northern Ireland Regional Hepatitis B&C Managed Clinical Network Annual Report 2020 can be found at www.pha.site/HepBCreports
If you need to contact the hepatitis B and C network directly, you can do so by calling 0289155725 or visit www.hepbandcni.net