Deirdre Webb, PHA and Edel Fox, Omagh Women's Aid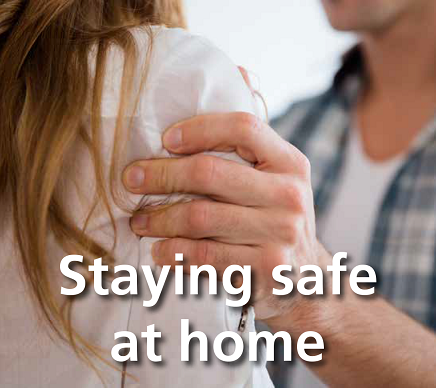 Before lockdown (March 2019 to February 2020), the weekly average number of domestic abuse calls received by the PSNI from men and women was 570. In the week 20-26 May, provisional figures show that the number increased to 636.
We have all been asked to stay home, avoid public spaces and where possible, work remotely. Lockdown measures may now be being relaxed, but relative isolation and social distancing remain key in suppressing COVID-19. For people living with domestic violence, staying home may not be safe.
Self or household-isolation can mean being home with or in close proximity to an abuser. External factors brought about by COVID-19, such as school closures, financial stress and health concerns have increased household tension, creating circumstances where the safety of abuse survivors is further compromised.
Government strategy, 'Stopping Domestic and Sexual Violence and Abuse in Northern Ireland,' defines domestic violence and abuse as: 'threatening, controlling, coercive behaviour, violence or abuse (psychological, virtual, physical, verbal, sexual, financial or emotional) inflicted on anyone (irrespective of age, ethnicity, religion, gender, gender identity, sexual orientation or any form of disability) by a current or former intimate partner or family member.'
Northern Ireland's Department of Justice and Department of Health have issued comprehensive guidance for those who affected by domestic abuse and for those who are concerned about someone else.
Advice
If you feel unsafe living with an abusive person, and are isolated from support, be aware that the advice to stay at home does not apply if you need to leave your home to escape domestic abuse.
A safety plan can lower your risk of harm and abuse. Think through steps that you can take to keep safe and how you might respond in different situations. 
 
Safety plan
Keep your phone charged, in credit and with you.

Keep with you any emergency telephone numbers.

If the abuser checks your phone, delete messages and calls quickly.

Delete your online history when necessary.

Can you safely keep in touch with anyone by phone or online? This could be a friend, family member, domestic violence support service, neighbour or carer.

Can you talk about what is happening? Use any safe opportunity you can, eg when out food shopping, attending health services, collecting medication, etc

Could you agree a regular time and day for them to check-in?  Let them know if there are safe times to call you.

Have a code word with family and/or friends and talk about what to do if you use it. Do they come and get you? Do they call the police?

Have a code word with your children. Tell them where to go if you use it, run to a specific neighbour, go to the end of the street, etc

Have an escape plan. Think about where you might go in an emergency.

Are there neighbours you can trust?  Keep your keys and bank card somewhere that you can grab them easily.

Think about the safest routes in and out of your house.

Try to keep some money on you, enough for a taxi or bus fare.

If you suspect you are about to be attacked, try to go to a lower risk area of the house - an area with a way out and access to a phone.  Avoid the kitchen or garage where there are likely to be knives or other weapons. If you lock yourself in a room, try to push a wedge under the door.

Be prepared to leave in an emergency.

Have a bag packed and if you can, leave this at a trusted friend/family/neighbour's home. Think of medical essentials, important documents including passports/driving license.
•    If in immediate danger, call 999. Silent Solution: when you are asked which emergency service you need, if you can't say 'police' or 'ambulance', cough or tap the handset if you can. If prompted, press 55 to let the other person know it's an emergency and you're not safe to speak.
•    If you need to report a crime but are not in immediate danger, call 101.
Help and support
Support, advice and accommodation remain available as needed during COVID-19. These services can help you think through safety options and provide emotional support. Information is available here.
We all have a part to play
If your family is struggling to cope with stress and household tension, consider seeking

Family Support services

.

Anger management services and behaviour change support

is available.




 

If you are worried about hurting someone you love, you can call Respect's anonymous and confidential helpline for men and women - 0808 8024040.


 

If you're worried that someone is at risk or experiencing domestic abuse, tell them about your concerns. Help them talk it through and support them if they want to report the abuse.

If you suspect that your neighbours or those in your community are victims of domestic abuse, report it to the police.

If you are worried about a child, contact

Social Services

. If it is an emergency, call 999.

If someone passes you a note, act on it. Don't intervene. Call the police.

Signal to employees and colleagues that if they are facing domestic abuse you can help them to get help. Keep in regular contact with employees you know, or fear, may be facing abuse. If you lose contact, take swift action. If it is an emergency, call 999.