Dr Claire Neill, Specialty Registrar in Public Health, and Maurice Meehan, Head of Health and Social Wellbeing Improvement (Northern), PHA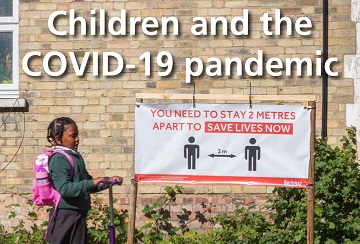 The COVID-19 pandemic has taken us out of our everyday lives. Efforts to contain the spread of infection in our communities involved a period of time spent in lockdown, which has been challenging for many. As restrictions begin to relax, and guidance adapts to the ever changing situation, we take a global perspective on COVID-19 and highlight considerations on how best to protect our children. 
Emerging evidence has shown that that COVID-19 generally presents as a mild illness in childhood. Lockdown has been critical to ensuring the protection of the Northern Ireland and UK population during COVID-19. As we emerge from lockdown there are increased opportunities for critical play and peer interaction with others in childhood and adolescence.
What is known about the risk of COVID-19 in children?
Epidemiological data from several countries has shown that children make up a small minority of those testing positive for COVID-19 infection, with studies showing serious illness or death as reassuringly rare in children.[i] Deaths from COVID-19 in those from birth to 19 years old have been lower than those from annual 'flu', or attributed to unintentional injury. To put this into perspective, using Global Burden of Disease estimates, in several countries over a three month period, COVID-19 is estimated to be responsible for 0.117% of all deaths in 0 to 19 year olds, with lower respiratory tract infection estimated as being responsible for 2.475% of deaths in this age group, and unintentional injury estimated to contribute to 8.3%.[ii] The Lancet also recently published data from a large multinational study on severe COVID-19 infection in children and adolescents.[iii] The study spanned across 25 European countries, and analysed risk factors associated with intensive care admission, or severe COVID-19 infection, in children up to aged 18 years old. They concluded that COVID-19 is generally a mild condition in children.  A very small proportion of children (8%, or 48/582) required intensive care admission, with an even smaller proportion requiring mechanical ventilation (4%, or 25/582). There have been reports of a rare inflammatory condition in children consequent to COVID-19, and caution from carers and families is certainly still to be expected during this unpreceded time. 
How do we protect our children from other potential risks during the COVID-19 pandemic?
Routine vaccinations!
There are many vaccine preventable infectious diseases that can make children seriously unwell, or may be life-threatening in childhood; such as measles or meningococcal infection. In Northern Ireland, our routine childhood vaccination programme covers sixteen important infectious diseases, and saves millions of lives per year. As high rates of uptake of a vaccine are essential to stopping the spread of one of these infectious diseases, we need to ensure children attend appointments for vaccines, if they are offered. If we stopped vaccinating, these diseases would start coming back into our communities, and we could see outbreaks of diseases that can be fatal to children. 
See a doctor, if you need to!
You know your child best, and if you think they are unwell and need to see a doctor, you should continue to seek medical advice as normal. Hospital departments, general practitioners (including out of hours arrangements) and Royal Colleges have reassured the public and continued to communicate the vital message that these services remain open and are there to treat people.
Supporting children and young people to thrive
It is understandable for parents to be anxious during this time, and children may naturally feel this too. Across the UK the National Society for the Prevention of Cruelty to Children (NSPCC) reported that since lockdown they have delivered over 2,000 sessions each week to children and young people concerned about their mental health and emotional wellbeing.[iv] Lockdown will have limited time spent and contact with others. Return to school may be challenging.
We need to remember, however, just how important the external environment, exercise and contact with others is to thrive.  Talking to your child, establishing routines, and supporting them through this time, will help them to feel safe and secure in establishing another 'new normal'.
Public Health Agency Take 5 steps to wellbeing
UNICEF 6 Strategies for Teen Mental Health During This Temporary New Normal
Young Minds Tips and Guidance on Coronavirus and Mental Health
Information on Family Support Services in Northern Ireland
PHA Blog on Family Time During COVID-19
---