By Bernie Pearson, R&D Approvals Change Manager, HSC Research & Development Division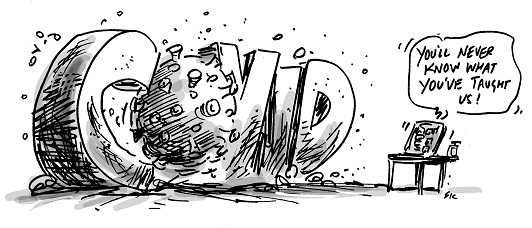 COVID-19 has presented the most compelling example of crisis management in our time and will surely be remembered as one of the most challenging times in our careers. The Public Health Agency (PHA) was required to not only increase efforts to protect and improve the health and social wellbeing of the population of Northern Ireland and to also manage the many unplanned changes resulting from COVID-19 that changed how the agency functioned internally and externally.
Externally the Agency was under heightened public expectation and requirements that only intensified efforts to attain its purpose and vision. Internally staff faced the same pressures as the public such as merging work and home life, home schooling and the many uncertainties that COVID-19 brought.
Organisational change is generally categorised as either planned or unplanned change. Organisational change is easier when it is complemented with a well-thought plan on what would make change easier for those impacted. However, COVID-19 did not afford the PHA as an organisation that luxury and ultimately forced changes to how staff worked, lived, and how staff completed new roles and existing roles remotely using new technologies and tools.
Organisational survival has been dependent on digital technology to enable remote working, reduce risk of transmission, free-up capacity in services, formation of new teams and collaboration and connecting with our communities.  COVID-19 catalysed an already existent strategic focus to integrate digital technologies across the health service and has demonstrated that large scale change is possible when people appreciate the urgent need and perceived benefits in doing so.
Research and Development had a key role to play in the fight against COVID-19. Changes were implemented to expedite applications and ensure COVID-19 research could start as quickly as possible.  Managing the implementation of these changes during the crisis posed additional challenges relating to social distancing, low staff levels and staff performing different roles on a temporary basis. However these were offset by the anticipated benefits the solutions should deliver and the answers that research would provide. Research helped develop diagnostic tests, treatments and vaccines and to prevent and manage the spread of the virus.
The PHA has continued to adapt to emergent change caused by COVID-19 with impact right across the organisations' people, processes, and culture.  One example is the creation of new structural cells to support teams and professions to operate and communicate rapidly and laterally across the organisational structures and enabled best ways of working at this time.
Following the first wave of the pandemic, the PHA captured learning and recommended changes that should be preserved to strengthen how it works, a sense of camaraderie and kindness was ever present across the PHA as staff reflected on peer support and compassion from their colleagues and teams that provided comfort and psychological safety during times of pressure as a result of the upheaval felt from change and uncertainty.
As an organisation, the PHA supported its staffs' resilience with a suite of health and wellbeing resources to motivate a healthy lifestyle, coaching to find new ways to measure performance and success during crisis, and encouraged peer support, all focused on a resilient PHA workforce.
While appreciating the progress and opportunistic advancements that COVID-19 has brought about, it is important to be mindful that change at such a pace presents possible risks and drawbacks. It will be important that the PHA continues to capture learning throughout 2021 and beyond, to understand the innovations and changes that add the most value to its operations, including the culture of camaraderie, compassion and care.
To read more about HSC R&D Division, visit: https://research.hscni.net/