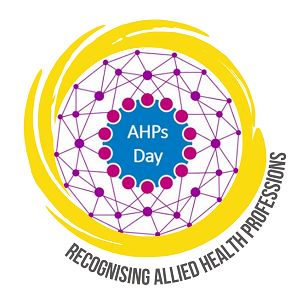 Michelle Tennyson, Assistant Director for AHPs, PPI and Patient Experience
Thursday October 14 is Allied Health Professions Day and we would like to Celebrate and Appreciate the 7,693 Allied Health Professionals working throughout Northern Ireland. This group of thirteen professions has seen some incredible achievements in the last twelve months, including:
The Northern Ireland AHP conference on September 30 highlighted numerous examples of innovative practice and AHPs working to the top of their licence to improve services in Northern Ireland, including the move to virtual services during Covid-19, the Early Language Intervention Programme, and addressing Eating, Drinking and Swallowing difficulties.

Friday October 8 saw the first Northern Ireland AHP Mental Health Conference take place online – an inspirational testament to the impact of AHPs in mental health services and highlighting opportunities for multiprofessional collaboration to further enhance services.

Northern Ireland had no less than 16 AHPs as finalists in this year's UK Advancing Healthcare Awards across a wide range of categories, with Joanne McKee, AHP Lead in the Whiteabbey Nightingale Regional Enhanced Nursing and AHP-led Rehabilitation Unit, named as overall UK winner.

The new Paramedic degree programme, the first of its kind in Northern Ireland, was launched at Ulster University in September with forty students from a range of backgrounds taking the course.
…not to mention the high-quality, person-centred services our colleagues provide every day across Health, Education, Justice, Social Care,
We are so proud of all of our Allied Health Professionals, and so grateful for their tenacity, drive and passion which has led them to achieve so much in this last year and improve the health and wellbeing of so many in Northern Ireland.
The "AHP choir" was set up in late 2020 by Jenny Kirkwood, Heather Turkington and Ceara Gallagher as a way of connecting online and using creativity to support self-care. This latest video featuring the song "Rise Up" was created for the NICON conference, and it is a dedication to the resilience, determination and passion of our entire workforce in Health and Social Care.