Balmoral Show visitors give the gift of life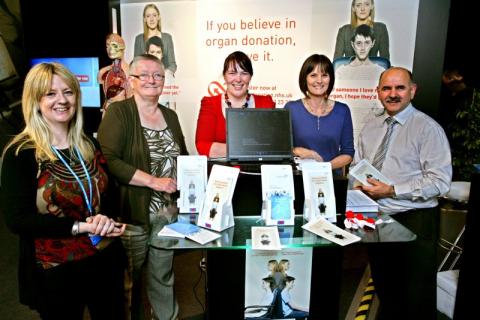 With over 300 people currently waiting for organ donation in Northern Ireland, the Public Health Agency (PHA) has urged people to join the Organ Donor Register by hosting a stand at the Balmoral Show, which ran 11–13 May 2011. The purpose of this Organ Donor stand was to increase awareness of this emotive issue and to help improve rates of organ donation here.
Over 10,000 people in the UK currently need a transplant and, of these, nearly 1,000 each year die waiting because there are not enough organs available.  Although the national programme of Organ Donation has had encouraging uptake results to date, there are still only one in four adults in Northern Ireland registered as potential organ donors.
Dr Eddie Rooney, Chief Executive, PHA, said: "Although there has been a marked increase in the UK's population registering as a donor, three quarters of the population in Northern Ireland are still not registered. The PHA are trying to make it as easy as possible for people to sign up to the organ donor register by providing opportunities such as this stand at Balmoral Show and also at the North West 200 next week."
"These opportunities will allow us to engage with a large and diverse audience, making them aware of the importance of organ donation and encouraging them to register as a donor today."
Dr Rooney continued: "We all have the opportunity to help others in need simply by joining the Organ Donor Register. I would ask everyone in Northern Ireland, who has not already done so, to take this simple step today and to go home tonight and discuss this vital issue with their family and friends."
"With over 70,000 people attending the Balmoral Show, it offered an excellent platform to provide information on organ donation and help highlight the fact that there is a shortage of donors."  
If anyone would like to register as an organ donor, they should contact 0300 123 23 23 or visit www.organdonation.nhs.uk
Further information
Contact the PHA Press Office, Ormeau Avenue on 028 9031 1611.
Notes to the editor
1. You can join the NHS Organ Donor Register by:
Filling in a form online at www.organdonation.nhs.uk

Calling the NHS Donor Line on 0300 123 23 23 (lines are open 24 hours a day)

By texting SAVE to 84118
You can also join when you are:
Registering for a driving licence
Applying for a Boots Advantage card
Registering at a GP surgery
Registering for a European Health Insurance Card (EHIC)

Leaflets are also displayed in GP surgeries, libraries and many hospitals and pharmacies.
2. In November 2009 the PHA held a seminar on Organ Donation in Northern Ireland. The 14 recommendations highlighted by the Organ Donation Taskforce can be viewed on the PHA Website www.publichealth.hscni.net/news - Organ Donation Seminar November 4 2010.
Caption for photograph:
Pictured at the PHA's Organ Donation stand at the Balmoral Show last week are Mary McMahon, Chairperson, PHA, and Dr Eddie Rooney, Chief Executive of the PHA along with NHSBT organ donation coordinators.