COVID-19 research passes one million participants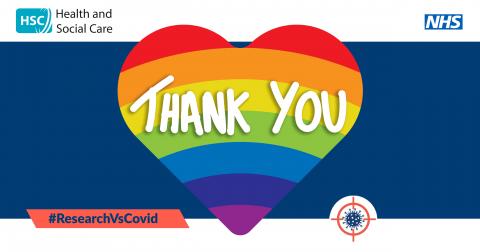 More than one million people have now taken part in COVID-19 research across the UK, including over 26,000 participants in Northern Ireland, with resources – both staff and funding – provided by the Northern Ireland clinical research infrastructure and HSC R&D Division within the Public Health Agency (PHA).
The first case of COVID-19 in Northern Ireland emerged at the end of February 2020, since then the Northern Ireland research community has played a key role in supporting the development of vaccines, as well as identifying new treatments for COVID-19.
This remarkable feat, achieved by members of the public, Health and Social Care (HSC) staff, research teams, regulators, life science companies and policy makers, has enabled world-leading research, including the Novavax, RECOVERY, REMAP-CAP and PRINCIPLE trials, to take place in Northern Ireland.
These discoveries that have resulted have significantly improved outcomes for people who get the virus, especially those most at risk of becoming severely unwell and hospitalised. Without such significant support from the public, this vital research would not have been possible.
Coinciding with this remarkable milestone, the four UK nations have jointly launched the #ResearchVsCovid 'thank you' campaign to celebrate the efforts of participants, researchers and healthcare professionals for their involvement in COVID-19 research.
Dr Janice Bailie, Assistant Director of HSC R&D Division with the PHA, said: "Never before has research been more important, and the fight against coronavirus has put it at the forefront of all our minds. HSC R&D Division continues to ensure that Northern Ireland is well placed to participate in COVID-19 research. Praise must be given to the entire research infrastructure in Northern Ireland for how it has responded to the COVID-19 crisis.
"It's important to recognise how far we've come, and it could not have been done without the people who stepped forward to contribute to the studies and make the research possible."
Dr Lindsay Broadbent, a vaccine trial volunteer, said: "Vaccines are an amazing invention and when I had the opportunity to participate in the COVID-19 vaccine trial I was happy to volunteer. Taking part in a trial is a small way that I can contribute to the fight against COVID-19."
Studies are ongoing and participants are continuing to be recruited on a daily basis. The Novavax vaccine trial has reopened in Belfast with participants who received the placebo now being given the vaccine in a crossover study. The PRINCIPLE trial is seeking people who have COVID-19 symptoms and meet the criteria to self-enrol in the study – find out more at www.principletrial.org.
For more information about taking part in research and other opportunities to take part in COVID-19 research can be found at www.bepartofresearch.nihr.ac.uk
Ends