Dysphagia awareness over the festive season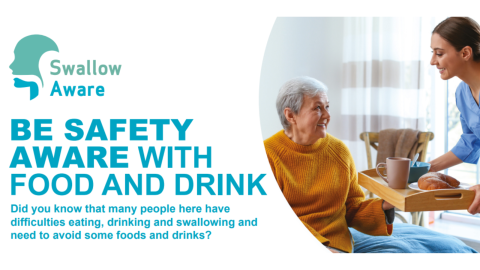 With the festive season upon us and as our thoughts turn to spending time with friends and families, the Public Health Agency is asking people to remember those who may have difficulties with eating, drinking and swallowing safely.
Eating, Drinking and Swallowing difficulties, or Dysphagia, can affect a wide range of people and can lead to a risk of choking, or even death. It is of the utmost importance that we all remember when we are out and about this Christmas to Be Safety Aware With Food and Drink.pdf (hscni.net)
When visiting a relative in their own home, a care home or in hospital this Christmas, you might want to bring them a special treat to eat or drink. If you do this, we simply ask that you remember three key things:
Do not leave food or drinks where other people might be able to reach them

Always check with staff or carers that any food or drink you bring are safe for that person

Do not to share your food or drink with other people
While this may be particularly difficult at Christmas, other people nearby may have a swallowing difficulty that you are unaware of, and certain types of food or drinks may not be safe for them. Always check with staff, and do not leave food within reach of other people.
For more information click here.