Major new smoking campaign focuses on family impact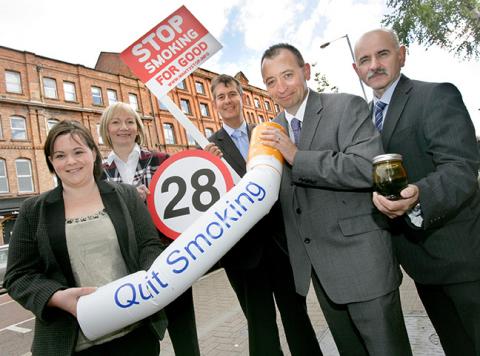 The damaging impact smoking has on families is being highlighted in Northern Ireland's new campaign to tackle smoking prevalence, which was launched today by the Public Health Agency (PHA). 

Smoking is the single greatest cause of preventable illness, premature death and health inequality throughout Northern Ireland and 2,300 people die prematurely each year from smoking-related illnesses such as coronary heart disease, stroke and many cancers.

The new campaign takes a two-stranded approach to motivate and encourage smokers to make a quit attempt.

The first strand entitled 'Make them proud' aims to raise awareness of the impact parental smoking can have on children's mental health, particularly in terms of the emotional worry and distress it can cause, and encourages parents who are smokers to make a quit attempt now rather than put it off until later.

Dr Carolyn Harper, Director of Public Health at the PHA, explained: "The serious health problems caused by smoking are well known, including a range of cancers, heart disease and early death, which can have a significant health and emotional impact on the families and loved ones of people who smoke.

"Research shows that children who live with parents or siblings who smoke are up to three times more likely to become smokers themselves than children from non-smoking households. By focusing on parental smoking, we hope to have a positive impact on both adult smoking rates and the uptake of smoking by children and young people in the longer term. 

"Our work with parents who smoke has shown that the most effective messages are those that show the impact smoking has on their family, in particular their children, which was a strong motivating factor for making a quit attempt. This has been carried through as the key theme of the campaign."

The second strand of the campaign highlights that if you stop for 28 days or more, you are five time times more likely to stop for good. It also promotes the support available to help people to stop smoking.

Dr Harper added: "Giving up smoking is not easy, but thousands of smokers here have quit. While some people might be able to stop with very little help, support such as the free stop smoking services and Nicotine Replacement Therapy can significantly increase the chances of quitting successfully."
"Advice and information on quitting and details on the stop smoking services are available from the Want2Stop website and the Smokers' Helpline. The free stop smoking Quit Kit is also a great tool to help people who are thinking about stopping to plan their quit attempt and can be ordered from the website or the helpline." 

Welcoming the new campaign, Health Minister Edwin Poots said: "My Department's ten year tobacco control strategy aims to reduce the impact of tobacco promotion, limit the availability of tobacco to children and young people and raise awareness through public information and education.

"In Northern Ireland, 82% of adults took up smoking in their teens.  So, while we must continue to provide services to help smokers quit, we will only see a big difference in the numbers of those smoking if we can stop our young people from taking up the smoking habit in the first place.

"In March 2012, I introduced regulations banning the sale of cigarettes from vending machines. This will go some way in preventing under-eighteens from accessing tobacco."

The Minister continued: "Considerable progress has also been made with regards to reducing the impact of tobacco promotion, including the ban on advertising and sponsorship. In order to protect children from the ubiquitous influence of tobacco advertising, I commenced regulations from October 2012 which saw the end of promotional displays of tobacco products at point of sale in large stores. In line with the rest of the UK, this legislation will be introduced in smaller stores from April 2015. 

"It is vital that we continue to develop sustained public information and education campaigns, such as the one we are launching today, in order to counteract the promotional activities carried out by the tobacco industry."

For more information and useful tips to stop smoking visit the PHA's 'Want 2 Stop' website at www.want2stop.info and order a 'Quit Kit' free of charge. Alternatively contact the Smokers' Helpline on 0808 812 8008.

There are also over 600 free stop smoking specialist services across Northern Ireland in pharmacies, GP surgeries, hospitals, communities and workplaces that can help with your quit attempt.
Further information
Media for the campaign will include TV, radio, outdoor, online and press advertising which will run over the period from 11 September 2013 – March 2014.
Please see below link to the TV ads.