Make a Delirium Difference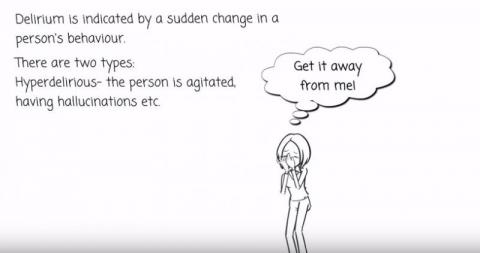 To mark World Delirium Day (15 March), the HSC Safety Forum, part of the Public Health Agency (PHA), and Dementia Together NI, are urging everyone to 'Make a Delirium Difference' and recognise the signs and symptoms of delirium.
Dr Gavin Lavery, Clinical Director of the HSC Safety Forum, said: "Delirium is caused by an acute disturbance of brain function which often produces a state of sudden confusion or changes in behaviour and awareness.
"It is very common and frequently occurs in people who become medically unwell, in people over 65, and those with pre-existing memory problems such as dementia. With the correct strategies, it may be prevented and reversed."
A person with delirium can experience symptoms including:
confusion
distractibility
rambling speech
changes in alertness
agitation (sometimes leading to aggression)
behavioural changes
changes in personality, including paranoia
hallucinations
Symptoms can be made worse by constipation, pain, impaired hearing or eyesight, poor nutrition and unfamiliar environment.
Dr Lavery continued: "We have developed awareness materials and a short video for both patients and relatives to help people understand delirium and have been working with our colleagues across health and social care to improve the management of people with a possible delirium.
"Training has also been provided to over 1,000 healthcare professionals in acute hospital wards, and by the end of this month over 450 paramedics at the Northern Ireland Ambulance Service will also have received this training. This will increase knowledge and we hope that this will help in the diagnosis of delirium and thus improve the outcome for patients, their families and carers.
"If a relative, friend or someone in your care shows any signs or symptoms of delirium, see a doctor. Your input about the person's symptoms, as well as his or her typical thinking and everyday abilities, will be important for a proper diagnosis and for finding the underlying cause."
For more information on delirium see http://pha.site/delirium-information-patients-relatives
To view the video on delirium visit http://pha.site/Deliriumvid