Northern Ireland vaccination uptake rates a cause for celebration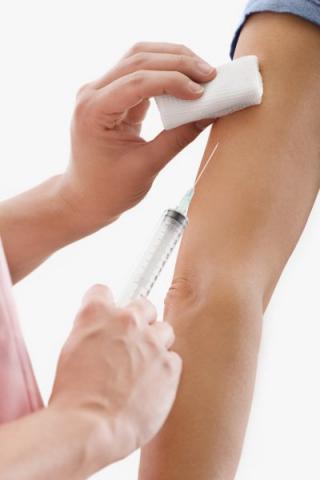 The Public Health Agency (PHA) welcomes European Immunisation Week (23 – 30 April 2011) as an opportunity to highlight to parents the importance of their children completing the childhood immunisation programme, to help prevent serious disease and illness. It is also a chance to celebrate the very high uptake levels for childhood vaccines being achieved in Northern Ireland.

Many childhood diseases that were common in the UK prior to the introduction of vaccination have been dramatically reduced or have disappeared altogether, such as polio, diphtheria, tetanus and whooping cough. However, once a disease 'disappears', it is easy to forget the seriousness of these diseases. Unfortunately, unless vaccine uptake is high these deadly diseases will return from parts of the world where they still occur.
Dr Richard Smithson, Consultant in Health Protection, PHA, said: "In Northern Ireland, thousands of cases of serious illness and many deaths are avoided each year thanks to a highly successful immunisation programme, but there is still a small percentage of children who do not receive full protection. The PHA wishes to promote the core message that immunisation of every child is vital to prevent diseases and protect life. 
"Northern Ireland has uptake rates of over 98% for the primary vaccines by two years of age, which is an excellent achievement, but I would urge the small remainder of parents whose children have not received full protection against serious diseases, to do so.
"MMR uptake rates are also very good again now that parents realise just how safe this vaccine is, and stand at nearly 92% at two years. By five years of age, just on 97% of children have had one dose of MMR and around 90% have had the recommended two doses."
Dr Smithson continued: "These excellent uptake rates are a testament to the GPs and nurses who have done a tremendous job in helping us attain levels well above the UK average, but above all they are a great tribute to parents who are choosing to do the best thing for their children by protecting them against these serious infections. I would urge those few parents whose children aren't fully vaccinated to ensure that they get all the recommended vaccines as soon as possible. It is never too late to get the vaccines, just speak to your GP or health visitor to arrange it. The age for childhood vaccinations changed recently making  the childhood vaccination programme easier for both children and parents.
The change consists of combining the visits that are currently made at 12 months of age, when children receive a combined Hib and Meningococcal C vaccine, and the visit at 13 months of age when they receive their first MMR and pneumococcal booster vaccine. These vaccines will now be combined into one visit, which will take place just after the child's first birthday.
Further information
Contact the PHA Press Office on 028 9031 1611.
Notes to the editor
Latest uptake rates for vaccines.
At 2 years of age:
Primary vaccines MMR
Northern Ireland 98.5% 91.8%
UK average 96.3% 89.4%
At 5 years of age
1 dose of MMR 2 doses of MMR
Northern Ireland 96.9% 90.5%
UK average 92.8% 84.8%