Preventing accidents while staying at home will help our health service!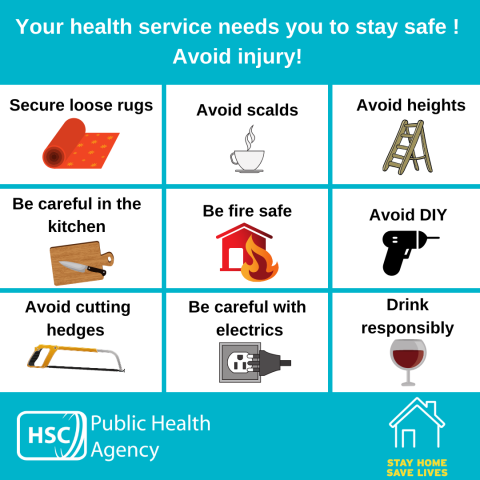 With people being encouraged to stay at home to prevent the spread of COVID-19 the Public Health Agency (PHA) is reminding people of the importance of home safety and the role they can play in taking pressure of the health service.
In Northern Ireland in a typical week, two people die as a result of home accidents. In addition to these deaths, there are approximately 17,000 admissions to hospital each year as a result of unintentional injuries. While it is important that we heed advice to stay home during the COVID-19 pandemic the PHA) is asking that you be aware of ways to avoid accidents within the home to protect ourselves and our loved ones from harm and to avoid putting extra pressure on our health service.
Hilary Johnston, Health and Social Wellbeing Improvement Manager with the PHA, said: "More accidents happen in the home than anywhere else, so we are encouraging everyone to be mindful of the dangers in and around the home and help us all work together to beat COVID-19.
"Like a lot of people across the world today you will be spending a lot more time at home and in our gardens, you may also have young children at home 24/7, getting bored and looking for things to do. For some of that time you may also have to do work from home that wouldn't otherwise be done in your home environment.. You may find your attention is being pulled in many different directions while trying to maintain good supervision of your little ones. Or perhaps you are looking for things to do around the house to keep you busy, such as decorating that room that has been annoying you, doing some gardening, clearing out your roof space etc. but these household tasks may put you a risk of injury and needing medical attention which can put extra pressure on our health service.
"It's important that you avoid scenarios that put you at increased risk and look to minimise risk elsewhere in your home. By following our tips and using our resources, you can prevent the most common types of injury.
Helpful tips:
Examine every blind in your home. If they have a looped control chain or cord and do not have a safety device fitted, then you can easily install one of the many devices available;

Ensure that all operating blind cords and chains cannot be reached by children;

Move cots, beds and any furniture away from windows and blinds – remember children love to climb;

When cleaning out kitchen cupboards and cabinets it is also important to put household cleaners and medicines away to avoid accidental poisoning or chemical burns. Make sure they are out of the sight and reach of children in a locked or high-level cupboard and clean up any spills;

Secure any loose fitting rugs to avoid trips and falls;

Be mindful of dangers associated with hot appliances or with hot liquids to prevent burns and scalds;

Be careful with sharp object such as knives when preparing food or cooking;

Check that televisions, chests of drawers and shelving units are securely anchored to the wall as bulky, heavy furniture can seriously injure or even kill a small child if it falls on top of them;

Test smoke alarms and carbon monoxide detectors;

If carrying out any DIY, avoid falls from height by checking a ladder's condition before use;

Stop and disconnect all electrical appliances and tools before repairing or cleaning them; only use tools/materials/products in accordance with their instructions; and

Always supervise children, especially when power tools and lawnmowers are being used, and tidy up all equipment straight after the job is done.

And always supervise children when they are playing in the garden, on trampolines and climbing frames and be aware of the dangers associated with open ponds and pools.
For more helpful tips on home safety visit www.rospa.com
Hilary concluded: "Our health service is under unimaginable pressures, it is likely that this will continue for the coming days and weeks. By following the steps above and doing our best to avoid accidents we can protect our loved ones and our health service heroes."