Remote monitoring technology for patients in their own homes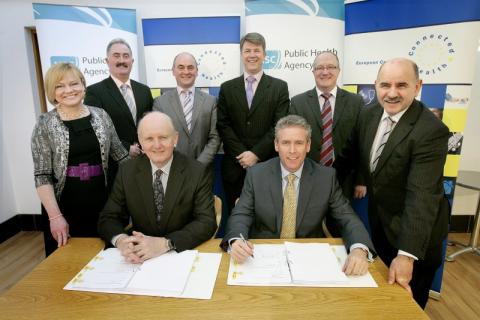 Patients with heart and respiratory conditions, diabetes and those who have suffered a stroke, can now have their vital signs, such as pulse, blood pressure and body weight, tested at home on a daily basis and monitored centrally.
Dr Eddie Rooney, Public Health Agency said: "The agreement of contracts for remote telemonitoring represents a significant step towards meeting the challenges of providing quality care for the growing number of people with heart disease, COPD, stroke and diabetes who want to live at home while having their conditions safely managed.
"The use of this technology will give people more information, and hence control, over their health while supporting them to live independently in their own homes for longer. Families and carers will also benefit from the reassurance that chronic health conditions are being closely monitored on an ongoing basis."
The successful bidders, TF3, will provide the service, that will alert care providers to any change in their patients' daily readings that might mean a deterioration in their condition, so that they can decide whether an intervention is necessary. This represents an investment of £18million over six years in the management of long-term conditions.
Minister for Health, Michael McGimpsey, said: "This is a wonderful achievement for the health service in Northern Ireland. The pressures on our health budget over the coming years together with challenging demographic trends such as an ageing population, mean that the health service is going to have to find new ways to ensure that we continue to provide a high quality service."
He continued: "With increasing numbers of people presenting with more and more complex needs and extremely high expectations of the health service, we must continue to provide the highest possible standard of care. There is no doubt that remote telemonitoring is a prime example of the innovation that will be required going forward."
The Minister went on to congratulate all those involved in bringing the contract to this point, including the European Centre for Connected Health in the Public Health Agency, trust staff who helped develop the service and TF3 as contract winners. He said: "This new service will mean a better experience and better outcomes for many of our patients, with earlier interventions when they have a flare-up and fewer spells in hospital as a result."
Jon Lowe, Managing Director of TF3, said: "The TF3 Consortium comprises Tunstall Healthcare, Fold Housing Association and S3, and, as the largest provider of telecare and telehealth systems in Northern Ireland and the UK, we would like to thank the ECCH and the health trusts for the opportunity to deliver this programme. TF3 is fully committed to telehealth that has been shown to support improved health outcomes, earlier interventions and enhanced self-care."