Dr Diane Anderson of the Public Health Agency discusses the information sources the public use to understand the COVID-19 pandemic. To view our complete series of COVID-19 blogs, click here.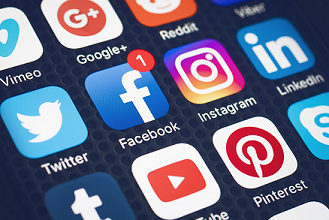 There is a flood of information about COVID-19 being made available to the general public. It is released by a wide range of government, media, private and community organisations, not to mention private individuals, in a variety of formats from newspapers to online platforms. But what exactly does the public know and where do they go to get their information?
Main sources of information
Recent survey results, such as the weekly ones produced by the Office of Communications (Ofcom), have explored where the public look for information about COVID-19 and what information they are absorbing. The most recent Ofcom survey shows that traditional media sources (broadcasters, newspapers, radio) are the most-used source of news and information about COVID-19 (89%). They are also the most important source of news and information to users (64%). Of these sources, the BBC is the most used (77%) and the most important source of information (50%).
The NHS is the most trusted source for information on COVID-19. Nine in ten adults who use it for information say they trust it (92%). Most people using official sources trust the information provided by official scientists (91%), local health services (84%), the World Health Organization (WHO) (81%) and the government (78%).
Challenges in understanding the information
The main challenges described by people surveyed were ineffective communication in terms of either access to information or information overload, conflicting guidance and misinformation.
More than a third of people (38%) said they find it hard to know what is true and what is false about COVID-19. Nearly half of people (47%) said they have come across false or misleading information about COVID-19 in the last week. This ranged across theories linking the origins or causes of COVID-19 to 5G technology, drinking more water and gargling with saltwater. All of which are untrue. 
Most of the UK countries and the Republic of Ireland have now published their individual recovery/lockdown exit plans (the Northern Ireland Executive Office published its Approach to Decision Making on 12 May 2020). Scotland's will be issued next week. 
Downing Street has changed the strategy slogan for England to "stay alert, control the virus and save lives". The new slogan is not being adopted by the other UK nations, which are sticking with "stay at home, protect the NHS, save lives". It's possible that the diverging approaches and their messaging may cause confusion. The BBC has provided a useful comparison between the Northern Ireland, England and Republic of Ireland recovery plans.
Fact checking and quality assurance
Anyone unsure if the information they have received is true or not can go to fact-checking websites for advice. Fact Check NI are publishing and currently researching some COVID-19 claims. The BBC has a collection of the most common misleading claims. Channel 4 News' FactCheck is also looking at key claims about COVID-19.
The most up-to-date guidance and statistics for people living in Northern Ireland can be found at the Public Health Agency, Department of Health (NI), NIDirect and Public Health England websites.
Making the information locally relevant
The survey findings discussed in this blog are from studies which are focused largely on England, Scotland and Wales and have little input from the Northern Ireland public. 
However, the Northern Ireland Statistical and Research Agency (NISRA) have launched a survey which will capture our local knowledge and opinions. If you have been contacted about participating in this, please do get involved – the more people that complete the survey, the better our government organisations will understand the impact of COVID-19 on our lives and the better they are able to plan what they can do to help. 
If you would like to read more about the surveys described in this blog, they can be found as follows:
.To view our complete series of COVID-19 blogs, click here.