Hilary Johnston, PHA, and Pauline Herbison, Royal Society for the Prevention of Accidents (RoSPA), discuss a way we can all help reduce pressure on the health service during lockdown. To view our complete series of COVID-19 blogs, click here.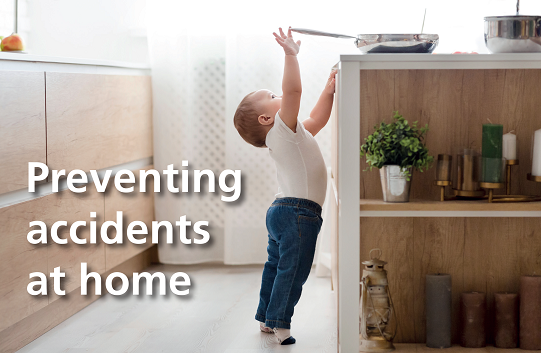 The challenge
More accidents happen in the home than anywhere else!
In a typical week in Northern Ireland, two people die as a result of home accidents. In addition, there are approximately 17,000 admissions to hospital each year as a result of unintentional injuries[i].
Home accidents are preventable and we can therefore avoid putting unnecessary pressure on our health service.
Many of us are spending significantly more time at home. For many this includes more time with bored young children who are looking for things to do. Home working can also make it difficult to maintain good supervision of them.
For others, being at home may mean seeking ways to keep busy, such as decorating and other DIY, gardening, clearing out and cleaning up.
By following our home safety tips and using our resources, the most common types of injury can be avoided.
Helpful tips:
Children love to climb. Keep cots, beds and any furniture away from windows and blinds.

Examine your blinds – each of them. Ensure that children cannot reach blind cords and chains. Safety devices are simple to fit to blinds that have a looped control chain or cord.

Avoid accidental poisoning and chemical burns. Keep household cleaners, liquid laundry capsules and medicines out of the sight and reach of children in a locked or high-level cupboard and clean up any spills.

Keep e-cigarettes and their refills out of the reach of young children. E-cigarette liquid may taste sweet but it is poisonous.

Button batteries, if swallowed, can cause serious burns to the throat, stomach and other internal organs. Make sure items containing button batteries have their battery compartments locked or are kept out of reach of young children. Store spare batteries securely.

Keep plastic bags out of reach of small children. This includes nappy sacks.

Young children can drown in less than 5cm of water. Always supervise at bath time. Empty paddling pools when not in use, and cover or fence off garden ponds.

Supervise trampoline use, close the safety net and make sure children apply the basic rule of "one at a time".

Make sure upper floor windows have restrictors so young children cannot fall.

Use safety gates at the top and bottom of stairs if you have children under 24 months old.

Check that televisions and furniture are securely anchored to the wall. Bulky, heavy furniture can seriously injure or even kill a child if it falls on top of them.

Secure loose fitting rugs to avoid trips and falls; check stairs are free from clutter.

Prevent burns and scalds. Take care with h

ot appliances eg. irons and hair straighteners, and hot liquids..

Test smoke alarms and carbon monoxide detectors.

Never take or use barbeques inside – they could cause carbon monoxide poisoning.

Do not pour petrol, meths or other accelerants onto your barbeque.

Make sure sockets are not overloaded as this could cause a fire.

Don't leave devices charging on beds or other soft furnishings.

Beware that cheap counterfeit chargers may be more likely to catch fire.

Register new appliances at

www.registermyappliance.org.uk

and check recall notices.

Disconnect all electrical appliances and tools before repairing or cleaning them; only use tools/materials/products in accordance with their instructions.

Use a residual current device (RCD) when operating electrically powered garden tools and mowers.

Always supervise children when power tools and lawnmowers are being used, and tidy up all equipment straight away. 

Take care with sharp objects.




 




The positives


 


The current circumstances are challenging, but they do offer an opportunity for us all to relook at our homes and gardens from a home safety point of view.




We can also talk to family, including children, teenagers and older family members, about keeping safe at home.


RoSPA has launched Accident Free, Avoid A&E, to help keep us accident and injury free and out of hospital. This new campaign provides advice on how to avoid common accidents at home, work, leisure and on the road. It will last for as long as social distancing measures are in place, so make sure to follow RoSPA's webpage and

Facebook

,

Twitter

and

YouTube

channels for more tips.




 




And finally




The key positive in all this is that we can all do our bit to help reduce pressures on our frontline services at this time.




However if you do suffer an injury or illness, do seek medical advice. If an emergency is

life threatening, phone 999 immediately and/or go to the nearest Emergency Department.
To view our complete series of COVID-19 blogs, click here.
---
[i] Home Accident Prevention Strategy, 2015-2025, Department of Health