Dianne Keys, The Conservation Volunteers, and Laura Taylor, PHA. To view our complete series of COVID-19 blogs, click here.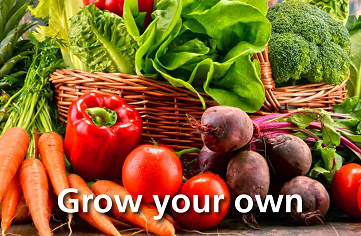 There has been a large rise in interest in gardening since lockdown began. With everybody staying at home we have been looking at ways to occupy our time and with the weather being so favourable, many of us have been spending a lot of our time in any outside space we have.
The Conservation Volunteers (TCV) have responded to this interest with several exciting new initiatives based around growing at home. Using social media, TCV have connected with over 400 families across Northern Ireland sending out beginners' packs of salad varieties with instructions to grow them at home. TCV have also been rewarding keyworkers who have carried on working through the pandemic with colourful window boxes filled with summer bedding to brighten their return home from work.
For many, they have found that the pace of life has slowed through lockdown allowing time for simple activities such as planting seeds, tending plants, building veg plots and other garden activities.
Gardening has a positive benefit on our mental and physical health in several ways which can be explained through the 5 steps to wellbeing.
Be active
Gardening is a great way to keep fit. With so many activities that can be done in the garden it can be a whole-body workout. From stretching to prune or weed, bending to dig and pushing and pulling a lawnmower, you can work up quite a sweat! It is a great way to get a daily dose of vitamin D as long as you remember the sunscreen.
Take notice
A lot of people have commented that the birds have seemed louder since lockdown. The birds haven't turned the volume up but with the absence of traffic noise, people have become more aware of the birdsong while out on their daily walk or in their garden. Lockdown has been a perfect time to become more aware of what is around us, from the birdsong to the leaves unfurling on the trees.
Keep learning
Gardening is an ideal activity to do with children. It combines maths, science, nature and is a valuable contribution to home schooling. Children can plant out seeds and learn how to care for them from watering them, pricking out and planting on and ultimately harvesting and eating their produce.
Connect
In this time of lockdown, we haven't been able to connect in the same ways as before with people other than those we live with. People have found innovative ways of connecting, using online meetings, WhatsApp and Facebook groups. A lot of community gardens have moved online with social media groups where people share ideas, photos and tips.

Give
One thing about sowing seeds is that you almost always grow too many! These make ideal presents to pass on to neighbours to grow on so they can enjoy some homegrown produce or pretty flowers to brighten a windowsill.
Easy growing for you to try at home
Even if you are shielding and unable to leave the house there are plenty of growing activities you can try with items you may have in your fridge or cupboard. Have a look and see what fruit or vegetables you have and see what you can try to grow.
Tomatoes – cut a slice of tomato and leave it on the top of a pot of compost. The seeds should sprout after a week or so. You can pot up little tomato plants once they have three or four leaves.
Potatoes – any potatoes that have sprouted under the sink can be planted into a deep bucket. Cover with 10cm of soil and every time the leaves poke through the top, cover with more soil until you reach the top of the bucket. Harvest once the plants flower.
Chillies – Scrape a few seeds out of any fresh or dried chillies you have and plant them in a pot. Cover lightly with soil and keep the soil damp and the pot in a sunny spot. Seeds should sprout in ten days or so.
Spring onions, celery bases and lettuce bases – all of these can be encouraged to grow again by propping them over a glass of water with the water just touching the bottom of the vegetable. Roots will develop into the water and leafy shoots will appear from the base of the plant. These can be harvested once they are 5-10cm tall.  
If this has helped inspire you, and you wish to meet like-minded people, have a look online to see where there's a community garden near you.
For further information on TCV, visit www.tcv.org.uk/northernireland
For further information on the 5 steps to wellbeing (available in 12 languages), visit www.pha.site/take5
To view our complete series of COVID-19 blogs, click here.