The full impact on students' mental health as a result of the Covid-19 pandemic has yet to be assessed.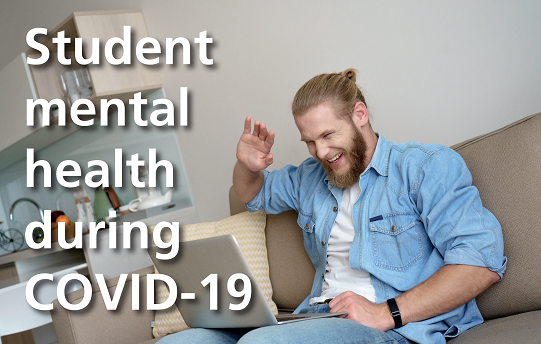 Much work has been done by educational facilities to prepare students and to reconsider course delivery methods in light of COVID-19 restrictions and precautions. However, there is still uncertainty for students about what this next year will look like.
Beginning a new chapter at College or University can be exciting, however the pandemic may mean that, instead of getting involved in campus life, many will start a new course at home, with classes on-line. So, university or college life might look a little different this year. Even the ways students make friends and socialise have had to adapt to comply with local Northern Ireland restrictions and social distancing guidelines.
Many student societies, clubs and sports groups are still operating – some online rather than in person - and are a great way to socialise and have fun. Attending induction courses and receptions run by your department is another opportunity for getting to know people on your course who you already have something in common with. For further information on your local clubs, groups and societies visit http://www.nus-usi.org.
For some, remote study and socialising may be welcomed; however for others this may be a challenge.
It is important that students are aware of their mental wellbeing and that taking care of their mental health is as important as looking after their physical health. Having good mental health means feeling positive, and being able to cope with everyday pressures and able to form and maintain healthy relationships.
A certain level of stress is entirely normal. However some students may feel pressured to achieve good results and this can have a significant impact on how they feel. First year students at universities and further and higher education colleges may find that transition from school to third level education causes additional stress. Some will find the course they have chosen to study stressful!
It's important to recognise changes in emotions, thoughts and behaviours. Signs of a potential mental health problem include:
• change in mood;
• disturbed sleep;
• disturbed eating patterns;
• lack of care for personal appearance or personal responsibilities;
• unusual behaviour;
• recurrent physical symptoms;
• increased use of alcohol or other drugs;
• thinking/talking about not wanting to live.
The Public Health Agency works with Universities and FE colleges to raise awareness among students of the importance of looking after your mental health, and of ways to help maintain a good mental wellbeing.
Mind Your Head: A Student Guide to Mental Health is a booklet developed by PHA and designed by students which is distributed each year to colleges and universities.
Some students may already use, or may turn to, unhealthy coping behaviours in times of stress or unease. The following can help ensure healthy coping instead:
getting enough rest;

making time for self, family and friends ­ and talking;

cultivating and encouraging optimism in self and in others;

exercising regularly, preferably in company;

limiting alcohol intake and avoiding cigarettes and other drugs.
Talking about feelings can really make a difference. Support for students who feel that they can't talk to anyone they know or who would prefer to talk to someone anonymously includes helplines such as Samaritans and Lifeline - both are available 24 hours a day and free to call from landlines and mobiles
A range of other helpful local organisations and websites also exist across Northern Ireland to offer support. More information can be found at www.mindingyourhead.info. In response to the pandemic, a comprehensive online hub of resources has been developed to provide a range of advice and information on factors affecting mental health. The COVID Wellbeing hub can be accessed via the same Minding Your Head website
If you, or someone you know is in distress or despair, you can speak to a trained Counsellor directly from Lifeline on 0808 808 8000.