With January being a time when many examine their relationship with alcohol, we revisit our blog article Drinking during lockdown, what's the big deal?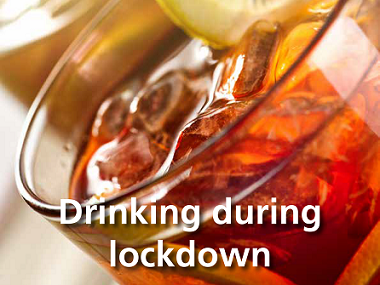 The government has advised us to avoid unnecessary social contact, thereby protecting ourselves and our health system. The Lancet suggests, however, that government should also give public health warnings about excessive alcohol consumption during isolation1.
At the Public Health Agency (PHA) we recognise that this is important and we seek to ensure the availability of guidance and support for those cutting down or quitting. However we are also keen to remind people of the UK Chief Medical Officers' guidelines on 'low risk drinking'2 to help people look after their wider health and wellbeing.
Alcohol – what's the problem?
There are plenty of articles in the media about home drinking during lockdown.
Alcohol use, especially heavy use, is known to weaken the immune system and reduce the ability to cope with infectious diseases. Heavy use of alcohol increases the risk of acute respiratory distress syndrome (ARDS), one of the most severe complications of COVID-193.
Drinking alters thoughts, judgement, decision-making and behaviour. It is known to increase the symptoms of panic and anxiety disorders, depression and other mental disorders.
We know that alcohol increases the risk of death and injury from issues such as trips/falls, road traffic injuries, etc. It increases the risk, frequency and severity of interpersonal violence. All of these put pressures on our health system that we all wish to protect during this pandemic.
With excessive alcohol use, people are less likely to follow important social distancing and hygiene practices.
The risks associated with drinking excessively are therefore quite clear. They are even more pertinent during this pandemic.
So what can be done?
It takes more than risk information to change health behaviours across whole populations. When considering guidance on alcohol consumption, we must acknowledge the role it plays in our culture and the circumstances in which it is used. We must also consider the public acceptability of promoting abstinence (no drinking) vs 'low risk drinking'.
The World Health Organisation (WHO) considers lockdown a unique opportunity to quit drinking, or at least to cut down, since various social cues and peer pressure situations, such as parties, friends' gatherings, restaurants and clubs, are (by necessity) avoidable3.
UK government guidance recommends that drug and alcohol services keep operating at this time to help protect vulnerable people who are at greater risk from COVID-19 and to help reduce the burden on other healthcare services4.
Across the province, alcohol and drug support services are indeed still operating. These include support for people to reduce their risks from drinking, rather than quit completely.
Many of them are working remotely so that social distancing can be maintained. For those seeking support, interventions being delivered online may offer greater anonymity and privacy. Perhaps home working by providers has meant there is more flexibility with 'appointment times' and indeed there are no transport barriers for service users. A list of support services is available at www.drugsandalcoholni.info.
Tips for 'lower risk drinking'
Be aware of your pour – during lockdown we can't rely on pubs and restaurants serving us accurate measures. Plan several alcohol-free days during the week.

Andi Oliver, judge on Great British Menu, said recently that she and her husband had introduced alcohol free days because they realised they were drinking more during the lockdown. 

Organise some alternative things to do, instead of 'boredom drinking', such just calling a friend or relative. For some alcohol free cocktail recipes, go to our website

www.drugsandalcoholni.info/self-help-resources

 - a simple option is sugar free lemonade with a splash of balsamic vinegar, plenty of ice and fresh fruit (believe it or not, this creates a great alcohol free alternative to a popular summer drink).

Try to set a good example to children where alcohol is concerned.

To keep the risks low, it's safest that men and women drink no more than 14 units a week.

For individuals who are pregnant or think they could become pregnant, the safest approach is not to drink alcohol at all, to keep risks to the baby to a minimum.

For more practical advice during lockdown go to

www.pha.site/DontGetLockedIn

 
References
www.gov.uk/government/publications/covid-19-guidance-for-commissioners-and-providers-of-services-for-people-who-use-drugs-or-alcohol/covid-19-guidance-for-commissioners-and-providers-of-services-for-people-who-use-drugs-or-alcohol
 
To view our complete series of COVID-19 blogs, click here.