By Dr Naomh Gallagher, Programme Manager, HSC Research & Development Division of the Public Health Agency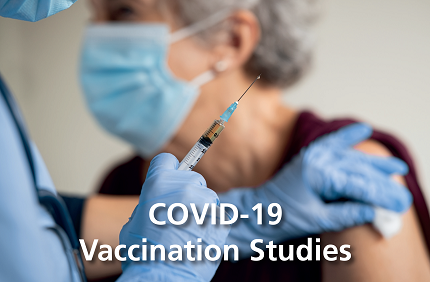 It is now one year since the first case of coronavirus was detected in Northern Ireland[1]. No one could have predicted that in such a short time we would see over 4m cases of the disease in the UK with 109,000 cases in Northern Ireland. The COVID-19 research response was rapid in setting up sites for valuable research trials to take place across the UK. As part of this research, work has taken place globally to find a vaccine and thankfully there are now three licenced vaccines for COVID-19 in the UK[2]. The development of a vaccine for COVID-19 has been one of the quickest immunological advancements in modern history…and we're just getting started!
In the UK, there are currently four COVID-19 vaccine clinical trials taking place, with a further three closed to recruitment and in follow-up. These vaccine trials could lead to more COVID-19 vaccines becoming available in the UK and globally, and could provide additional arsenal to fight new mutations of the virus. Ultimately these vaccines will hasten the much sought after conclusion to the pandemic, and potentially save millions of lives.
All COVID-19 vaccines have been through rigorous trials involving thousands of participants to ensure that they are both safe and effective. In Northern Ireland, Belfast Health and Social Care Trust led a site in the Phase III Novavax clinical trial, supported by the Health and Social Care R&D Division and a wide range of regional stakeholders: the NI Clinical Research Network; the NI Clinical Research Facility; the NI Clinical Trials Unit; Queen's University Belfast and Ulster University, involving medical staff and nursing staff from across Northern Ireland as well as medical, nursing and physiotherapy students, community GPs and Belfast COVID Centre staff.
Nearly 500 participants were recruited from Northern Ireland for the trial, which was led by researchers Professor Danny McAuley, Professor Judy Bradley and Dr Johnny Stewart. The trial showed that the Novavax vaccine is 89.3% effective in preventing COVID-19 in participants, and the Novavax vaccine is the first to show that it is effective against both the UK and South Africa virus variants[3]. This is great news in the fight against COVID-19 and praise must be given to the NI infrastructure for their hard work in getting the research to this stage.
The vaccine trials would not be possible without the hard work and dedication of the study teams and collaborators, but most importantly, it is the trial participants who volunteer their time and raise their heads above the parapet to take part in this ground-breaking work. It is to these study participants that we owe a huge deal of gratitude.
During the pandemic, the Vaccine Taskforce requested the establishment of a vaccine research registry to expedite the recruitment of volunteers who were willing to be contacted to take part in a vaccine trial. The UK wide register was established by NHS Digital and the National Institute of Health Research (NIHR) in collaboration with their counterparts in the devolved administrations. Since its launch in July, more than 447,000 people across the UK have signed up to the register with over 8,300 of these in Northern Ireland. It has so far supported recruitment to five clinical trials and continues to support new trials as they are opened. You can register your interest if you are aged 18 or over and living in the UK.  If you are interested in finding out more about how you could get involved in vaccine trials and other COVID-19 studies, please visit: www.nhs.uk/researchcontact
For more information on HSC R&D please visit: www.research.hscni.net